Your browser is not supported. Please upgrade it to the latest version or download a freeware browser Chrome for correct working with website.
Composite Decking
Here you can see our range of deck, all lengths and dimensions are available to order, please contact our managers and submit your request and we will make you the best offer for the price and shipping cost
What is composite decking?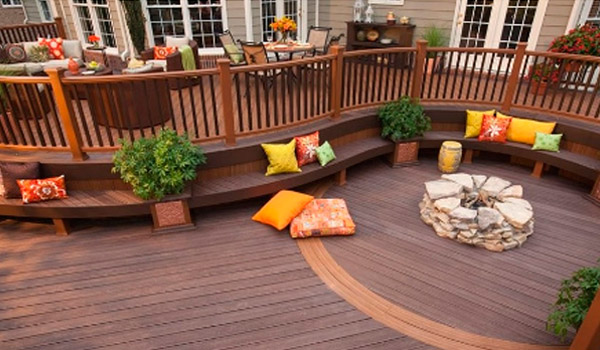 Composite decking are boards made up of recycled plastic and a small amount of wood fibers. It is a good alternative to wood decking, which is not inferior to it in strength and durability.
Composite decking is divided into two types:
PVC decking (capped polymer). These are premium boards that contains no wood component at all. They have the greatest strength and the best protection against decay.
Composite PE decking. These are classic composite boards, which include both wood and plastic. Depending on the quality, the decking can contain 80-95% recycled plastic and 5-20% wood chips.
Composite decking is ideal for formwork verandas, terraces, porch near the house. Premium decking has good protection against mold and therefore can be installed near water.
Composite Decking features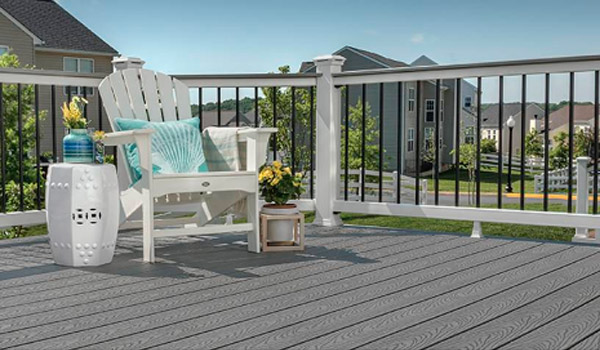 We have summarized the main characteristics of composite decking from 5 popular brands: Trex, Fiberon, Zuri, Wolf, TimberTech, Azek. The middle price decking segment has the following properties:
it is cheaper than the wood decking;
easy to maintain: no sanding or painting required;
it is easy to clean it with water and soap;
durable and protected from mechanical damage;
protected from the appearance of mold;
the surface is protected from scratches;
boards with matte surfaces that do not slip;
weakly heated in the sun;
a rich selection of colors of different shades and textures;
so easy to assemble that you can install it yourself;
a light weight;
does not fade in the sun - most brands give a guarantee of color retention for 25-50 years;
long service life: manufacturers provide a 25 to 50-year warranty, and for premium decking - a lifetime warranty.
The appearance of the board is highly dependent on quality. Budget options are usually presented in solid colors and simple textures. Expensive decking offers a variety of colors, intricate hand-made patterns.
How are composite decking made?
Composite decking is very environmentally friendly. For their creation, recyclable materials are used: industrial packaging, bags and bubble wrap. It is important that trees do not need to be cut down to produce composite decking. If the board contains a wood component, it is usually sawdust and wood chips.
Comparison of composite and wood decking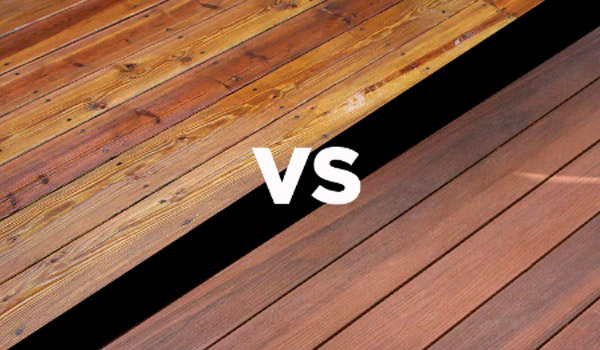 | | | |
| --- | --- | --- |
| Comparison criterion | Composite decking | Wooden decking |
| Price per sq. ft. | $6 - 20 | $4 - 20 |
| Durability | Average strength | High strength |
| Maintenance | Wash with soapy water every six months | Clean, paint and sand |
| Fade protection | 50 years | Painting or Staining every year |
| Mold protection | Medium | Low |
| Heating degree | Low | Average |
| Service life | 25-75 years | 10-15 years |
You can order a sample of a composite board and personally test its quality. Using a sample, you can evaluate the structure and quality of the material and understand how much it suits your interior.
Composite decking brands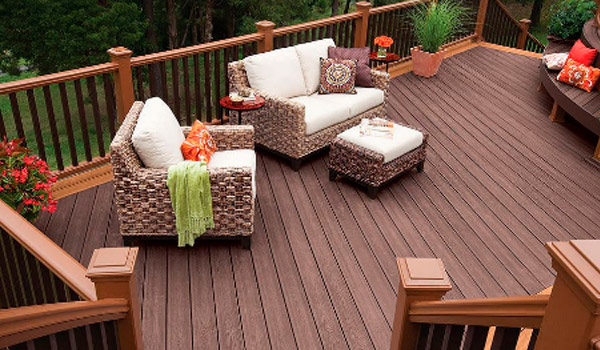 Decks Toronto is the leading supplier of composite decking in Canada. We supply contractors and homeowners with the leading composite decking brands such as Trex, Timbertech-Azek, Fiberon, Wolf and Zuri.
Trex composite decking
This is the first company to start producing composite boards. They are 95% recycled plastic. The manufacturer has three collections: Trex Transcend, Trex Enhance and Trex Select. Special handrail collections have been developed for each collection. Homeowner's standard warranty against damage and fading is 25 years. The big advantage of this brand is its low price compared to other brands.
You can find out more about colors, prices, profiles of boards and collections of Trex composite decking on our website.
Fiberon composite decking
Fiberon offers 5 striking lines:
premium Promenade, Paramount and Concordia collections;
middle segment Sanctuary decking collection;
budget Good Life collection.
The collections are presented in a variety of shades, from light gray to yellow and rich brown. Depending on the type of collection, the warranty against damage lasts from 30 years to a lifetime. The guarantee against fading and staining extends for 25 - 50 years.
You can find out more about colors, prices, profiles of boards and collections of Fiberon composite decking on our website.
TimberTech composite decking The
Manufacturer creates boards of the highest quality. His most famous line is Azek PVC decking. These robust decks have a 50-year warranty and are available in three widths. This allows you to create unique and unusual designs for your terrace to your liking without restrictions.
TimberTech Edge (Prime +), TimberTech Pro (Legacy, Reserve, Terrain) collections differ from each other in wood content, coating quality and warranty period.
You can find out more about colors, prices, profiles of boards and collections of TimberTech composite decking on our website.
Wolf composite decking
ColorWatch100 protects boards from sun fading. The manufacturer guarantees that the boards will retain their rich color for 50 years. The system of hidden fixings makes the installation of Wolf decking very quick and convenient.
You can find out more about colors, prices, profiles of boards and collections of Wolf composite decking on our website.
Zuri composite decking
Zuri produces the most durable decking of all brands. They offer 5 different colors: light brown, deep gray, reddish brown, tan, and just brown. The convenience of using the decking is ensured by the fact that all boards of this brand have a flat bottom.
You can find out more about colors, prices, profiles of boards and collections of Zuri composite decking on our website.
How to clean composite decking
Cleaning composite decking is typically very easy. All you need is soap and water and sometimes a pressure washer that is set to a low pressure setting in order not to damage the composite decking boards.
If you have an older composite deck or some inferior brand installed, then you may have mold embedded into your decking product, and you may need a special cleaner that will penetrate the decking and remove the mold.
There are also some products such as insect repellents and sunscreen sprays that can discolor even the most expensive and high quality PVC decking products. If you have a stain caused by these chemical products, there is nothing you can do to clean your deck or to bring back that color. Try contacting the manufacturer or the supplier of your decking product to see if they may be able to assist you in finding a possible cleaning product.
How long does composite decking last?
Composite decking boards typically come with a minimum of 25-year warranty. For some product lines, the warranty goes to 50 years and even to life-time. Thus, composite deck boards are very durable.
If you are purchasing composite decking that is produced by a leading manufacturer, it will last you a lifetime, even if the warranty is only 25 years.
The reason for such high durability is the fact that plastics do not decompose, do not disintegrate or fade in color after 25 years. After 25 years of service there are other major factors that will influence the life of your deck which include the disintegration of the wood decking frame or the desire of homeowners for a new look, design of the deck.
It is also important to get composite decking that is not easily scratched because 25 years is a long time and while your composite decking may not disintegrate, it can certainly accumulate a lot of scratches that cannot be removed.
Composite decking review
Most homeowners' reviews of composite decking are positive. They really serve for a long time, are easy to clean and do not require replacement. Among the main problems, owners note that the boards heat up in the sun, and mold appears on their surface.
If you are going to install a decking next to a pool, lake or other body of water - choose 100% plastic pvc decking. They have the best protection against decay.
For inspiration and new ideas Check out Houzz how to form your veranda with composite decking. And all the necessary products can be purchased in Decks Toronto online store.
Composite decking cost
Composite decking price depends on the length of the board, the quality of the coating, and the complexity of the pattern. The cost differs from brand to brand. Budget options are offered by the brands Trex, Fiberon and TimberTech. The Wolf, Zuri and Azek brands are significantly more expensive, but they offer longer warranties on their product.
We also frequently have composite decking on sale, so if you are looking for cheap composite decking materials - we can help you with that.
| | |
| --- | --- |
| Brand | Price per sq. ft. |
| Trex | $30.60 - 123.80 |
| Zuri | $101.88 - $169.80 |
| Wolf | $89.88 - $149.80 |
| Timbertech | $46.68 - $170.80 |
| Fiberon | $40.08 - $152.60 |
Composite decking prices are constantly changing. Call 416.623.7158 and check prices for boards from different collections.
Buy composite decking in Canada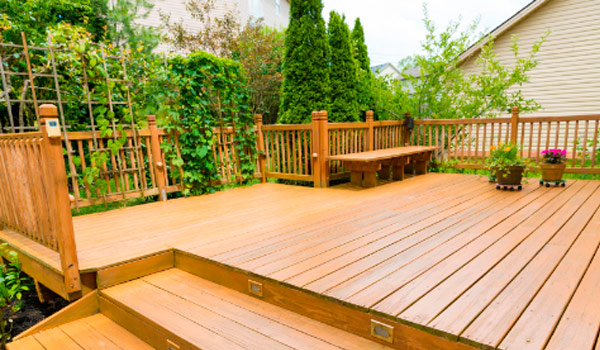 Decks Toronto online store delivers composite boards and related products throughout the Greater Toronto Area (GTA) in Canada. You can receive the product on the day of order if it is in stock, or within 2-4 days if you need large quantities of boards.
We carry all the major brands of composite decking in stock. We are ready to supply you with everything from the deck boards to accessories and fasteners. Furthermore, we maintain strong ties to the installation industry, and we know how the different brands perform over time. Our decking showroom in Vaughan, Ontario is a good starting point to select your decking material and speak to one of our experts.