Your browser is not supported. Please upgrade it to the latest version or download a freeware browser Chrome for correct working with website.
Material for balusters
Material for balusters
How to choose a material for balusters?
The choice of material for the baluster must be approached responsibly. Your safety depends on this choice. In addition, balusters play an important role in creating a unified aesthetic ensemble of the deck. Materials differ in the degree of strength, the tendency to corrosion, care, and price. In our article, Decks Toronto invites you to familiarize yourself with the possible choices, their advantages, and disadvantages. We will not only list the materials, but also answer the popular question: "What is the difference between iron and aluminum balusters, and which metal should you choose for yourself?".
What is a baluster?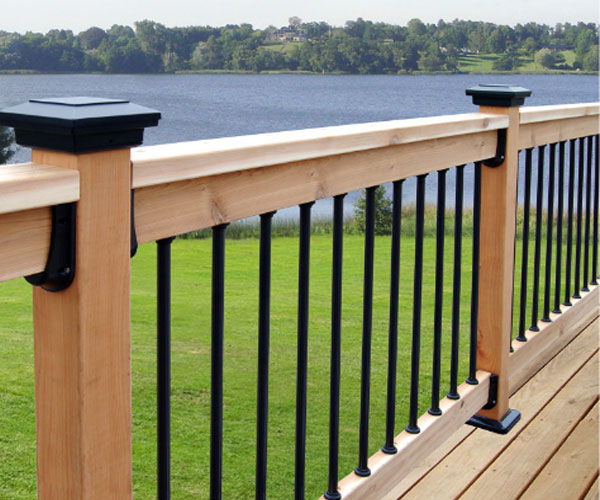 The baluster is a vertical column between a banister or handrail and the floor. Balusters need railing safety because they eliminate excess space through which someone could fall. To create balusters, stone, wood, or metal are usually used. Less popular options include plaster, plastic, PVC.
Baluster materials
Stone balusters
Stone balusters give the strength and reliability of the railing. The stones are resistant to mechanical damage, but vulnerable to water.
Wooden balusters
This is a cheap option relative to other materials. Wooden balusters look very elegant and can be shaped in a variety of ways. However, the tree requires careful maintenance. Wooden balusters are not recommended to be installed near water bodies, as they are prone to corrosion.
Plastic balusters
Plastic or polyvinyl balusters are gaining popularity among homeowners. They are chosen for their ease of attachment and ease of maintenance. They are also durable, do not corrode, and rot. The standard warranty for this handrail is 20 years.
Metal balusters
Metal remains the most popular choice for balusters. The metal balusters are durable and come with a long warranty. They are often made from iron, aluminum, and steel. Each of them has its advantages and disadvantages. Metal is the perfect material for cable fences.
Wrought iron baluster
Iron is a fairly durable material. Its main advantage is that it does not bend. By choosing iron balusters, you can be sure that they will retain their shape. You can repair an iron baluster by welding; a broken element does not have to be replaced. However, wrought iron balusters also have disadvantages. So, the rust from exposure to water and therefore require serious maintenance to avoid corrosion.
Aluminum baluster
Aluminum balusters do not rust thanks to their protective powder coating. They do not require care. Another advantage is that they are easy to install. They are strong, but they can bend under heavy loads. Repair requires the replacement of the balusters, as welding can ruin their appearance. In terms of aesthetics, you can find balusters in a variety of styles, including classic and baroque. The shape of aluminum balusters can be varied and you can choose from square, rounded, twisted, concave, and curved beams.
Stainless steel baluster
This is a very durable material, but it is more expensive than other analogs. Steel balusters do not rust. However, they have limitations on the possible design.
Iron and aluminum material compare
This table will help you understand which material is best for balusters: iron or aluminum? We compared both metals for important criteria for homeowners. This way you can choose the material based on your expectations and tastes.
| | | |
| --- | --- | --- |
| Criteria | Iron for balusters | Aluminum for balusters |
| Tendency to rust | Can rust | Does not rust |
| Strength | Very tough | Sturdy |
| UV resistance | Can fade on the sun | Can fade on the sun |
| Ease of repair | Needs welding to repair | Needs replacing to repair |
| Cost | $$ | $$$ |
| Ease of maintenance | Needs maintenance | No need in maintenance |
Regardless of the choice of metal for the balusters, you can experiment with the design. We invite you to be inspired by new ideas to create the railings of your dreams.
Order balusters for deck railing at Decks Toronto
Decks Toronto is an online store where you can order metal balusters. If you are looking to buy iron aluminum balusters, please visit our balusters category. In addition, you can assemble a complete set for deck railings with us. We have brands such as Fortress, Trex, Fiberon, Timbertech & Azek, Century Aluminum available.
If the material is in stock in the required quantity, then we deliver it on the day of order. Otherwise, the delivery time is 2 to 4 days. We operate in the GTA, Canada area. Pickup is also possible from our warehouse. We are located at 71 Buttermilk Avenue in Vaughan and 234 Hood Rd. in Markham.
To clarify the availability of balusters in the required quantity and price, please call 416 623 7158 for advice.