Your browser is not supported. Please upgrade it to the latest version or download a freeware browser Chrome for correct working with website.
TOP-20 popular questions about composite decking
TOP-20 popular questions about composite decking
Composite decking is an ideal option for those who are looking for a balance between price and quality. They have all the advantages of wooden decking, but at the same time compensate for their drawbacks. Durable, easy to install and maintain, cheap and dense, composite decking is gaining popularity among homeowners in Canada. If you have doubts about composite decking, then this article is for you. Here we answered 20 popular questions to help you decide whether or not to install composite decking.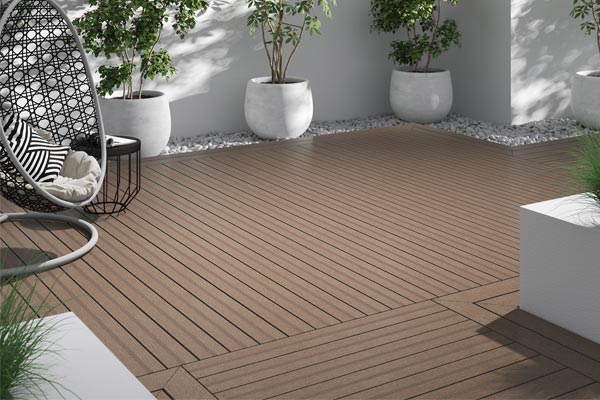 What is the difference between composite and PVC decking?
The difference between composite and PVC decking is the structure. Composite decking is 80-95% recycled plastic and 5-20% wood chips. PVC decking is 100% plastic. Because of this, PVC decking has a number of advantages over composite decking, such as being more durable, not prone to rotting in wet areas, and mold resistant. However, composite is significantly cheaper than plastic decking.
What is better: composite or wood decking?
The answer to this question depends on the tastes and preferences of the homeowner, as both types of decking have their own advantages and disadvantages. Wood decking has a natural look and is more durable, but it is expensive and requires regular maintenance. Composite decking is cheap, low maintenance, easy to install and comes in a wide range of colors from gray to red, yellow or dark brown. You should choose wooden decking if you care about the expensive and respectable look of your outdoors. You should choose composite decking if you value practicality and convenience.
Is composite decking slippery?
When dry, the boards are not slippery. However, when composite decking gets wet, it becomes slippery. In winter, these boards are also slippery when covered with a crust of ice or snow. You can make your deck less slippery by washing your deck twice a year, removing leaves and other debris, or removing ice in the winter. You can completely protect yourself from falls by installing non-slip treads. We recommend applying anti-slip paint or putting rubber anti-slip mats in the most crowded areas of the deck.
How to clean a composite deck?
Composite decking should be washed twice a year. To remove dirt and debris from the surface, it is enough to water decks with a hose. Use warm soapy water and a soft brush to remove dirt from the pattern and gaps. A pressure washer can be used to clean decking, but with no greater than 3100 psi. Do not use acetone or other solvents to wash composite decking.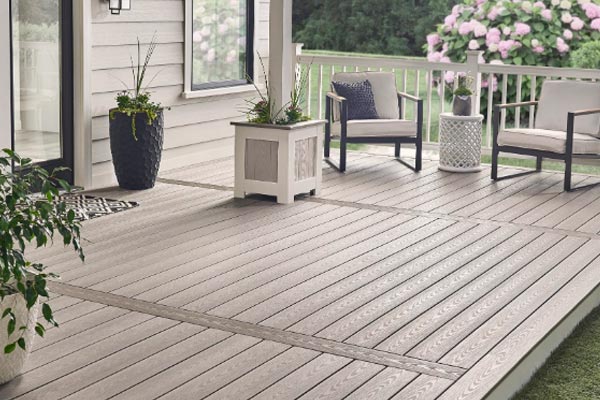 How much do composite deck boards cost?
Composite decking is cheaper than plastic or wood decks. Their price varies from $30 to $170 per sq. ft. The cost depends on the brand, the percentage of plastic inside, the quality of the protective coating, and the service life. Trex offers the most affordable composite decking collections, ranging from $30 to $120. Fiberon and TimberTech are a bit more expensive, starting at $40 per square foot.
How to install a composite decking?
You can build composite decking by yourself. To do this, you need to choose a dry sunny day and prepare the necessary tools such as nails, clips, fasteners. Keep in mind that there are special accessories for each brand of composite decking. Decks Toronto has prepared step by step instructions on how to properly install your decking DIY. You can also entrust the installation of composite decking to a professional contractor. He will finish the work within 4-5 days.
How much does it cost to install a composite deck?
The total cost can be calculated by knowing the area and the price of materials. As a guideline, you can expect a 20x20 composite deck installation to cost no less than $5,000-$6,000.
Is permission required to install a composite deck?
Yes, in order to build a composite deck, you need to take permission from the Building Department. Without this permission, problems may arise when selling the house. Luckily, permission is pretty easy to get with Decks Toronto. We offer you a ready-made Deck Permit Drawing Deluxe package with deck drawings and paperwork. If you already have decking but have not received a permit, you can apply for it with the Existing Deck Permit Drawing Package.
How long are composite deck boards?
Each brand has its own proportions for composite boards. Most manufacturers offer boards of 12, 16 or 20 feet. Please note that the length of the boards is different in each collection. You can go to the page of the product you are interested in and read the details of the length, width and height of the composite board.
How to replace old deck boards with new composite boards?
Often homeowners want to replace old wooden boards with new composite boards. It is possible to do it yourself. This will require tools and new boards. To replace it, you need to remove the old board and put a new one in its place. We do not recommend installing new material over the old one, as this will significantly reduce the life of the deck. Remember that replacing boards will cost you about $2 per square foot less than building a new composite deck.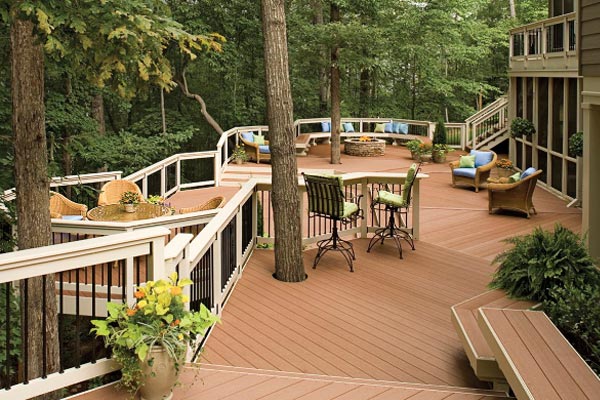 How long do composite decks last?
The duration of the warranty is determined by the manufacturer. At the same time, different warranty terms apply to different collections of the same brand. As a guideline, a 10-year warranty can be expected for commercial customers. Residential warranty averages 25 years. During this time, you can be sure that the composite board will retain its form and remain free of cracks. All manufacturers provide an additional 50-year guarantee that the board will retain color and not fade in the sun.
What brand of composite decking is better: Fiberon, Trex or TimberTech?
The choice of manufacturer depends on the budget, ideas about design and personal preferences. Trex offers the most affordable decking. Fiberon has the greatest variety of collections and colors. TimberTech offers some of the highest quality composite decking with the lowest wood content and the longest warranties.
How to protect composite decking from scratches?
Composite decking is covered with a protective layer that protects it from scratches. However, the coating cannot protect against everything, so we recommend that you take care of it. So, if you have furniture with metal legs on your deck, we advise you to purchase furniture leg pads or glides. Try to move heavy furniture less frequently. Purchase plastic or rubber feet for tables and chairs. All these measures will extend the service life of the composite deck.
What maintenance is required for composite decking?
Composite decking should be washed every six months with soapy warm water. Unlike wood decking, it does not need to be sanded, painted or sealed. Without additional care, the decking will retain its color and the boards will remain smooth.
Does composite decking look natural?
Expensive collections of composite decking such as Timbertech, Fiberon and Trex look natural. This is achieved through dark shades of colors and patterns that are applied to the board by hand. Cheaper collections in appearance will still be inferior to wood.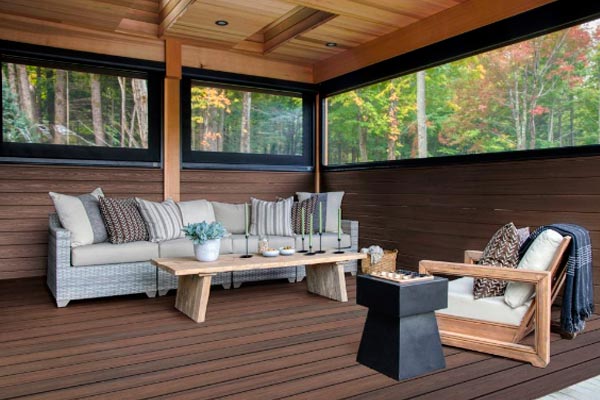 What colors are available for composite decking?
A variety of colors and great design possibilities is one of the most important advantages of composite decking. Depending on the collection, you will find grey, yellow, light brown or reddish brown boards. For those who want their decking to look as natural as possible, dark brown dockings are available that perfectly mimic real wood.
Can composite decking be installed near water bodies?
Composite decking contains wood at the core, which is prone to rot in wet areas. For this reason, if you want to install decking near a pool or in a rainy area, we recommend choosing decking with a minimum wood inside. It will come out a little more expensive, but mold will not form inside the boards.
Does composite decking get hot in the summer?
Composite decking heats up in the sun, however, there is a difference in heating between different collections. Newer collection decks have a better protective coating that reduces heat build-up. Modern composite decking does not get hotter than wood. It is also worth remembering that their temperature depends on the color. Light-colored decking heats up less than dark boards.
Resume: is composite decking worth the money?
Composite decking comes with a long list of benefits and can be a good option for those looking to build a cozy outdoor veranda. For less than wood or PVC, you get a place where you can comfortably spend an evening with family and friends. Installing decking will also increase the value of the house, and the deck itself will last you for decades.
Good quality, wide possibilities of design customization, environmental friendliness of production make the purchase of composite decking the right decision. Decks Toronto online store is one of the largest composite decking suppliers in Canada. You can buy composite decking from manufacturers Fiberon, Trex and TimberTech, as well as PVC decking from Wolf and Zuri with delivery within 3-5 days. In addition to boards, we also sell accessories, deck railings and deck lighting. Thus, in our store you can purchase everything you need to install decking outdoors.