Your browser is not supported. Please upgrade it to the latest version or download a freeware browser Chrome for correct working with website.
IPÉ Decking
In Stock
Material is in stock in one of our warehouses in the GTA. Same day pick up in the GTA is available for this product. You can call our office at 416.623.7158 to confirm the exact location for this product.
Out of stock
This product is not available at our warehouse or at our distributor's warehouse.
Special Order (1-2 days)
This product is not available at our GTA warehouse for same day pick up, but it is available at our warehouse outside of the GTA or at our distributor's warehouse. Product can be shipped either direct to job site or to our warehouse in the GTA for client pick up.
Last Stock Update: May 23, 2023
Pricing below is our REGULAR pricing. SPECIAL PRICING is available for contractors and large orders. Please call 416 623 7158 for most up to date pricing and availability. The stock below reflects our availability in Ontario, but does not specify the exact location. FOR PICK UPS - PLEASE CALL AHEAD OF VISITING to make sure your order is prepared. We only sell the highest grade of Ipe (clear, Grade A).
What is Ipe decking?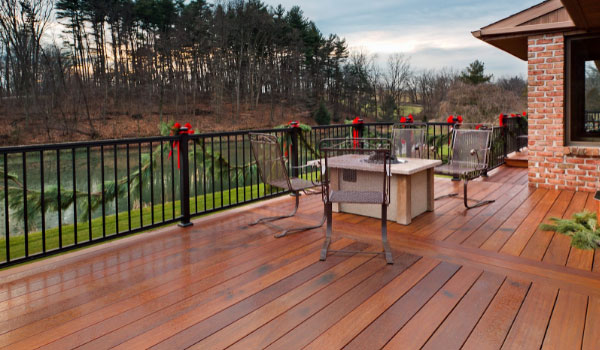 Ipe decking is a hardwood made of Brazil walnut. This tree species grows only in Brazil. Ipe decking is extremely dense and strong. The material is 3 times stronger than cedar, and thanks to that it is called iron wood.
Due to its durability, Ipe was used in the construction of the Panama Canal. Ipe decks were also used for New York City's Coney Island formwork. Many tourists walk in this area and there is an active transport interchange. Under the constant stress test, the decking served 25 years without serious deformations.
The colors of the ipe boards vary from dark brown to reddish-brown. The texture of the decks is fine-grained or medium grained. The boards are characterized by a light glossy sheen.
It is completely free of knots. Ipe decking is naturally resistant to decay and termite attack. Ipe decking boards have Class A fire rating - the same fire rating as concrete and steel. When installed properly, Ipe will not deform much, even if it's left to gray without any maintenance.
Ipe wood decking is suitable for veranda, terrace or porch formwork. They are used for wall siding and roof decking. The solid material is ideal for pool cladding. Brazilian wood decking is also used for decking marinas, bridges and piers.
Features of the ipe wood decking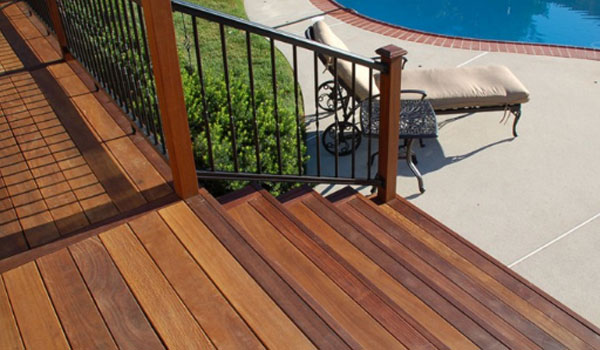 This durable wood has been used for over 75 years.
The material is resistant to scratches and mechanical damage; the color of decks is easy to restore;
The wood is fire resistant and approved by the National Fire Protection Agency for use in arid areas;
These decks have moderate thermal conductivity: you can walk on the boards barefoot on a hot day and feel that they are only slightly warmed;
The material is resistant to decay and mold. When installing ipe decking, it is important that the ends of the boards are fixed and protected from moisture ingress;
The composition of the tree naturally protects it from being eaten by termites. Ipe wood deck owners don't need to be afraid of insects;
The wood is non-slip and meets ASTM-C1028-89 standards;
The boards are very hard: on the Yankee strength scale, their strength is 3.510-3.680 lbs;
Ipe decking is considered the most prestigious choice for decking.
Ipe decking problems
Strong boards are difficult to handle, and it makes the installation process difficult. It is recommended to hire specialists who have special equipment.
The decking requires regular maintenance: cleaning and oliling. This takes the owner's time and results in additional costs. This process however is quick and you always have an option not to do any maintenance - the wood will lose its color, but will retain its structural integrity and the cracking and warping will be minimal.
The average price of wood decking is higher than that of softwood decking options such as cedar and pressure treated.
We only sell legally harvested wood Ipe wood. Once a tree of Ipe is cut down, many more are planted in its place. We also sell FSC certified Ipe. This means that this Ipe is monitored by the Forest Stewardship Council. We do our best to make sure that our business leaves the minimal ecological footprint.
Ipe vs composite decking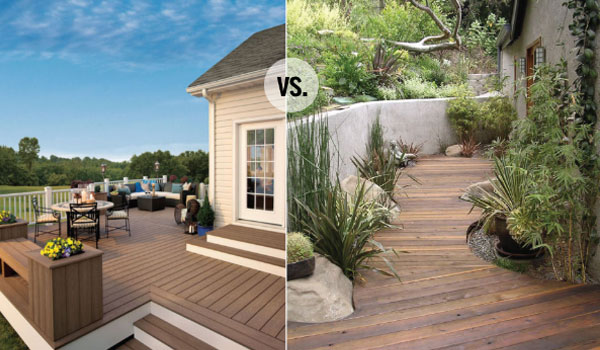 This is an average comparison. Actual decking features may vary depending on brand and specific collection.
| | | |
| --- | --- | --- |
| Comparison criterion | Ipe decking | Composite decking |
| Composition | 100% wood | 80-100% recycled plastic, 0-20% sawdust |
| Hardness | Very strong: Janka Hardness Rating between 3.510 - 3.680 | Medium strength: Janka Hardness Rating between 1,500 - 2,000 |
| Difficulty of maintenance | Medium or Simple. Periodic oiling of the deck board. Or let it grey and only clean with water. | Simple: it is enough to wash with warm water and soap every 6-12 months |
| Price | $20-28/sq.ft. | $20-28/sq. ft. |
| Durability | 50-100 years | 25-100 years |
| Scratch Resistance | Excellent | Low |
| Possibility shuttering near water | Yes: does not absorb moisture, rot | Yes: does not absorb moisture, rot |
| Heat Absorption | Will not heat up much in direct sun | Will heat up a lot more than wood in direct sun, avoid dark colors and direct sun |
| Appearance | Excellent natural, knot free look, variation of brown colors | Mimics wood, but not ideally. A variety of different colors available |
How to clean an ipe deck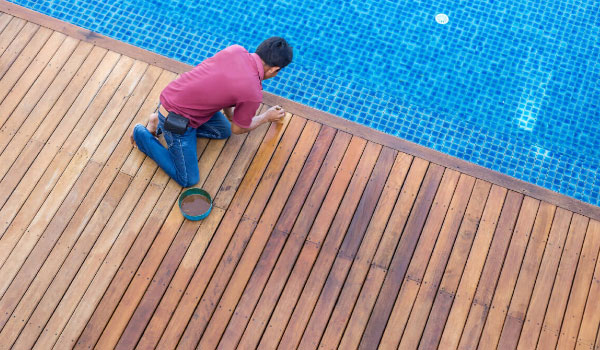 Ipe decking demands regular cleaning in order to maintain a perfect pristine appearance, we suggest annual application of Ipe Oil. Deck owners must regularly clean and oil their decks. If the original brown color is not required, the deck does not need to be oiled, only cleaned periodically.
If you need to get the original color back, the deck can always be sanded
You can let your deck go grey and not do any maintenance. The deck will still last 50 years at least and cracking and warping will be minimal.
The lifespan of wood decking can be extended to 100 years if it is coated with oil and topcoats on four sides prior to installation.
The cost of Ipe decking
Wood decking price is quite high as it is made of wood that is imported from Brazil. These boards are also clear of knots and provide the best natural resistance to the elements and insect attacks.
Choose a favorable time to buy Ipe boards!Prices of Ipe vary in accordance with rain and harvest seasons in Brazil. Ipe is the cheapest from October to April and most expensive to buy from May to September. Plan your project ahead of time and buy your ipe when it is cheaper. Ipe price is also dependant on the US/CAD exchange rate.
Depending on the board profile and its purpose, the price of ipe wood decking varies from $21 to $300 per piece. For example, a 5/4x6 Pregrooved profile in lengths from 3 to 7 inches for Decks Floors and Screens costs $12 per lin.ft, and a profile 2x12 for Fascias, Cladding Posts-Columns costs $28.98 per lin.ft. The high cost is offset by the durability - durable wood withstands extreme weather conditions and physical damage.
We recommend that you check the current price and the number of boards in stock with our consultants by phone 416.623.7158.
Ipe decking reviews
Most people do not notice this, but most of the wood that is used in outdoor projects by the City of Toronto since 2010 is Ipe. Ipe decking is used to build our city benches, our parks, TTC stops and the New Waterfront Boardwalk.
Homeowners choose wood decking for their strength, durability and aesthetic results. Ipe veranda decking looks expensive and prestigious - it will surely impress guests with its quality. Brazilian walnut decking also gets a lot of good reviews for its ability to be installed next to water. You can look at the ready-made designs with Ipe decking on the popular Houzz website.
Buy Ipe wood decking in Canada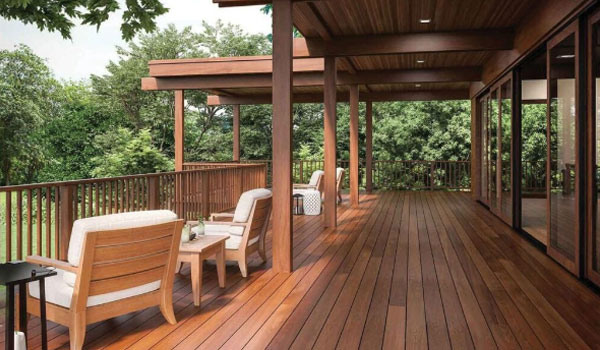 Decks Toronto is a direct importer of Ipe decking from Brazil and is one of the major suppliers of Ipe Decking in the Greater Toronto Area. Here you can buy Ipe decking boards online. We provide expert installation advice to all our clients - contractors and homeowners alike. Decks Toronto consultants will also advise you on ipe deck permits.
Decks Toronto store has the same day delivery. You also can pick up boards from our warehouse. If the needed boards are out of stock, the average delivery time is 2-4 days.
Decks Toronto carries in stock a full line of Ipe profiles. We have Ipe available in the 1 "nominal profiles (1x6, 1x8, 1x10, 1x12), in 5 / 4x6 for decking boards (grooved and ungrooved), in 2x4, 2x6, 2x8, 2x10, 2x12, 4x4 and even in 6x6.