Your browser is not supported. Please upgrade it to the latest version or download a freeware browser Chrome for correct working with website.
Deck Permit Drawings
What is deck permit drawing?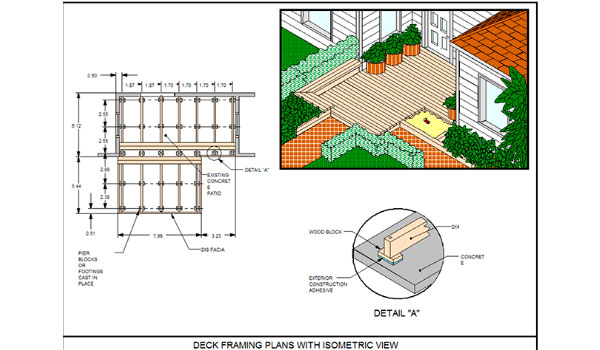 Deck permit drawing is a plan for the future deck, which is needed in order to obtain a permit for its construction. Usually it depicts a house, property boundaries, a place for a deck, notes the distance between objects and their sizes. This is a mandatory document that must be obtained before starting to install the deck. Its presence ensures that the deck is built in accordance with safety requirements.
The rules and standards for building an outer deck are described in Ontario Building Code. Fortunately, you don't have to understand this. The Decks Toronto store has specialists who are both certified in designing decks in accordance with the province requirements (BCIN certification) and have real life deck building carpentry experience. When we produce your custom permit drawings - not only will they meet the structural requirements, but they will be easy to build. You will save yourself time and money if you hire Decks Toronto to produce your permit drawings. We will also take care of the permit submission process and handle the correspondence with the city on your behalf. To order our permit drawing service, please call 416.623.7158
Why do homeowners need a deck permit drawing?
First, the permission to build a deck is needed in order to avoid trouble. Possible problems include:
Stop work orders by the city during deck construction;
Having to remove or redo the deck;
Injury due to improper assembly of the deck;
Problems when selling a house when deck permit is not on the house plans;
Not knowing if your contractor is following the Ontario Building Code (the city inspects and verifies they do their work properly)
Getting a permit to build a deck will bring you many advantages, including:
You will save time and money because you do not have to redo the deck;
You will plan in advance the shape and size of the deck and have a clear idea of the building plan;
You will not have last minute holdbacks from the purchasers of the house when they find out last minute that your deck does not have a permit
You will know that the contractor you hired did the right job and that your deck will stand the test of time.
When do homeowners need a deck permit drawing?
According to the Ontario Building Code you can build a deck without permission if it meets all the following conditions: the
deck is less than 24 inches above grade;
less than 100 square feet of deck area;
the deck is not attached to the house.
In all other cases, permission to install the deck is required. Please note that if you are rebuilding an existing deck and the new deck is exactly the same size - you still need a deck permit for the new deck.
Conditions for obtaining a deck permit drawing for a deck permit
You can apply online or in person for a deck permit at the building department. Each municipality will have its own forms and requirements that you need to submit for a permit. Usually, to submit an application, you need to collect a package of documents, which includes: an
Building permit application
A survey of your lot
2 copies of blueprints for the future deck;
house plan (in some case);
on request: drawing of the facade from the front or from the side;
on request: additional information on the decking to make sure it complies with CCMC.
Most municipalities now require the drawings to be made using a CAD software. In the drawing, it is necessarily to indicate the distance between the elements of the deck and the dimensions of these elements. The plan should include information about the materials used.
To install composite decking, you need to take a separate confirmation that they are allowed in your area of residence. In Ontario - this is called CCMC approval. Such brands as Trex, Fiberon, Timbertech, Wolf and Azek - have some of their product lines approved by CCMC.
Tips for draw permit planning
We recommend that you think through all the elements in advance. Here is a list of questions you should answer before you start drawing your deck plan:
Do you need a railing?
Will there be lighting, and if so, where will it be located?
Will you be installing a decking roof on your veranda to keep out rain and snow?
Will you have stairs, and if so, where would you like to place it?
The presence of these elements will need to be noted in the plan, so it is important to think about their installation in advance.
Deck permit packages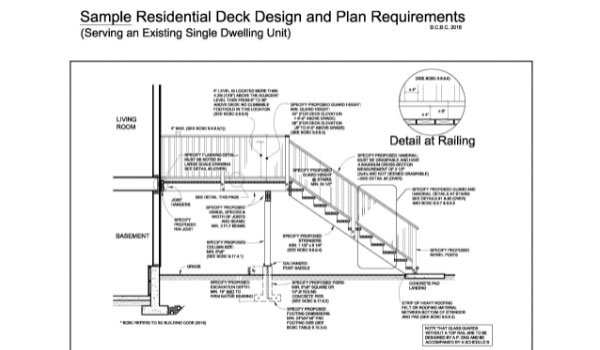 Existing Deck Permit Drawing Package
This package is suitable for those who have already built a deck and would like to get permission "post factum". We have helped countless individuals in the Greater Toronto Area to obtain permits for decks that have already been built. Getting the "Need to Comply" letter from the city can be very frustrating. Our specialist will come to the place, make the necessary measurements and provide you with the necessary drawings. Plans in the package include: a drawing of your deck or veranda, a drawing of the front and side of the house, a drawing of a railing and stairs, a site survey as well as other drawings required by the city. We will take careful measurements of your existing deck and make suggestion about what should be improved on to obtain a permit from the city. You can find out more on the Existing Deck Permit Package page.
Deck Permit Drawing Deluxe Package
This package is suitable for those who need help in creating a new deck or who have already received several denials of building a deck. We will save your time and make the necessary measurements ourselves and provide correct, accurate drawings. Drawings will be created for your individual project. Our specialists are well aware of the Ontario Building Code standards and therefore will prepare a plan that will be accepted by your municipality. You can find out more about the service on the page Deck Permit Drawing Deluxe Package.
Buy personal permit drawing for deck in 1 click
Decks Toronto - is a Canadian supplier of deck boards, deck railings, deck lighting and accessories. We understand how difficult it can be to deal with the drawings for the deck. Just pay for the Permit Drawings Deluxe Package and one of our specialists will come and meet with you within a short period of time. We will take over the whole process from here on. We will prepare, submit, revise if necessary and will be in communication with you and the city until the process is complete, and you receive a firm answer from the city.
If you still have questions about the drawings for the deck and how to get permission to assemble the decking, call our consultants at 416.623.7158. We will answer your questions and suggest a solution to your problems.