Your browser is not supported. Please upgrade it to the latest version or download a freeware browser Chrome for correct working with website.
Deck Railing in Canada
What are deck railings?
Deck railings are guards installed on a deck, porch, veranda or an exterior staircase. They are usually installed with the deck. The height of the handrail depends on the wishes of the homeowner and the local building codes. In Ontario deck under 5' in elevation can have railings that are 36" high, but all other railings need to be 42" above the deck surface.
Deck railing materials
Deck railing materials are commonly used in wood, metal (aluminum), glass and plastic. Each of the materials has its own advantages and disadvantages. You need to choose the type of railings taking into aesthetics, cost, longevity, rigidity and the local code requirements.
Wood deck railings
This is the traditional choice for homeowners. They are inexpensive relative to other materials. Wood is also easy to process and can be shaped in a variety of shapes to create unique designs. The downside of wooden railings is that they require a lot of maintenance, they will splinter and eventually rot. Wood railings also require a lot of time to put together, so all things considered this is not a good option.
Glass deck railings
Glass railings come in various shapes and designs. The advantage of glass railings is their high aesthetic appeal and that they offer excellent visibility. The cheapest glass railings are railings that have glass panels in an aluminum frame. The more expensive options of glass railing will include "frameless" glass railings. These are thicker panes of glass that are inserted into spigots, a bottom channel or attached to posts only (with no top and bottom rails).
The disadvantage of glass railings is that they need regular cleaning and they cost more than the aluminum railings.
Aluminum metal deck railings
Homeowners mostly choose aluminum metal railings. These railings are long lasting, strong, require no maintenance, they are quick to install and come with a good warranty. There are many selections of colors available, but most homeowners choose black color aluminum railings. Aluminum does not rust so these railings will do well in any environment.
Composite deck railings
Composite deck railing consists of recycled plastic and wood chips. Premium collections of PVC handrails are 100% plastic. This solution provides protection against decay in wet areas. They do not deform or crack. The fence retains its color for a long time, which does not fade in the sun, with a minimum guarantee of 25 years. All major manufacturers of composite or PVC decking have their own line of composite railings. These railings are chunky looking compared to aluminum and provide a more wood like appearance. However, these railings are hard to assemble and they cost a lot more than the aluminum. These are not a popular option.
Cable Railings
Many clients like the modern look of cable railings. These railings look fresh, provide excellent visibility and do not require much maintenance. For those who wish to abide by the Ontario Building Code - horizontal cable railings cannot be installed as they are climbable. Fortress has a good system of aluminum railings with vertical stainless steel cable. These are excellent railings, but the cost is very high.
Deck Railing types
Composite decking brands often produce railing in addition to their collections. They are designed to blend perfectly with the color of the boards and complement the exterior perfectly. The most famous brands that produce composite railings are Trex, Fiberon, TimberTech, Azek, Fortress.
Fortress deck railings deck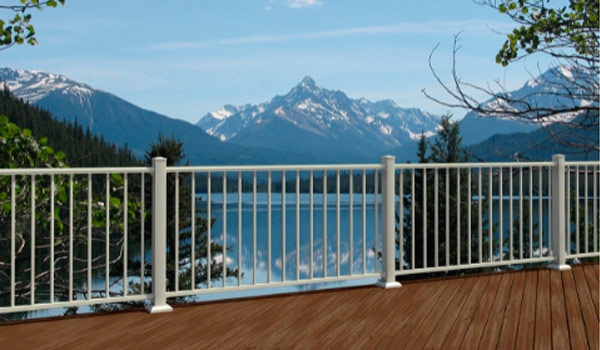 Fortress has been creating stair and composite railings for over 40 years and has established itself as a reliable manufacturer. It offers 7 collections of handrails with huge customization options for the client's taste.
Fortress Cable H-Series is a 15-year warranty for the horizontal cable fence.
Fortress Cable V-Series is a 15-year vertical cable fence.
Fe26 is a steel handrail with a 15-year warranty, for homeowners only.
Fe26 PLUS is a steel handrail with a 10-year warranty, for commercial installations only.
Al13 PLUS is the highest quality aluminum railings with a lifetime warranty.
Al13 HOME ™ is an aluminum handrail with a lifetime warranty for homeowners only.
Pure View ™ is a glass railing with a lifetime warranty for residential and commercial installations.
Handrail systems from Fortress are easy to install and allow you to create not only straight fences, but also curved, at any angle. Homeowners also have the option of choosing metal Baluster Railing.
Trex railings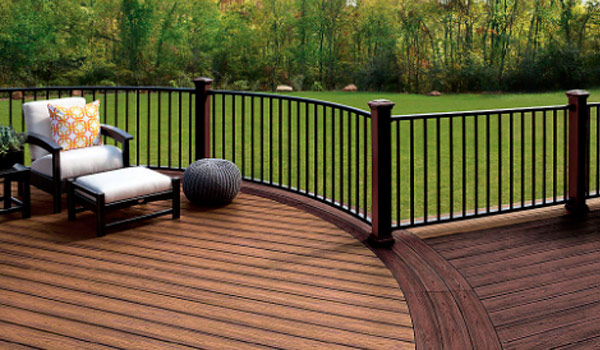 Trex is a famous composite deck and railing manufacturer. It offers 3 collections in European style with a 25-year limited warranty.
Trex Signature Railing is an elite collection that can be easily customized to the taste of the owner. You can order aluminum railings or glass base. You can choose from a mesh or rod pattern. You can install a rod, curves or drink rail as you wish. Colors in the collection: Charcoal Black, Bronze, Classic White. The handrail has a 25-year warranty.
Trex Transcend Railing is the ultimate customization collection. The collection is available in 6 colors: Charcoal Black, Classic White, Gravel Path, Rope Swing, Tree House, Vintage Lantern. These railings will be in perfect harmony with the decking collection of the same name.
Trex Select Railing is the most affordable collection. It offers classic railings with black aluminum balustrades and white runners. They are backed by a 25-year warranty.
Fiberon railings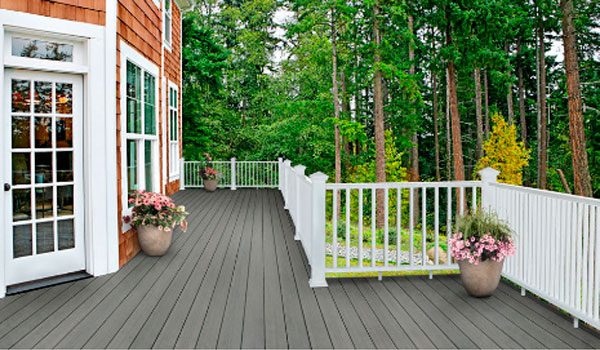 Fiberon offers 4 customized high-quality PVC railings. The main features of Fiberon railings are simple installation, easy maintenance and 25-year durability.
Havenview Countryside - classic European style railings. Available in Tranquil White, Simply Brown and Serene Black. The composition consists of vertical PVC panels. The manufacturer gives them a 25-year warranty.
Havenview Cityside - designed in Matte Black. Material - aluminum with a protective coating, pattern - vertical. They are so durable that they will last 25 years and are easy to maintain.
Brio Rhythm are plastic PVC panels available in three colors: Tranquil White, Simply Brown and Serene Black. They are easy to maintain and do not require painting. They are wood-free and therefore can be placed near bodies of water. Railings are easy to install - no specialist is needed for this.
Armorguard - the panel is made in a classic European style. It has an original color scheme: vertical black railings are combined with white insert profiles. There are 4 profile shapes to choose from: Classic Rail, Deluxe Rail, Regency Rail, Enclave Rail. The composition is made from recycled plastic.
TimberTech and Azek railings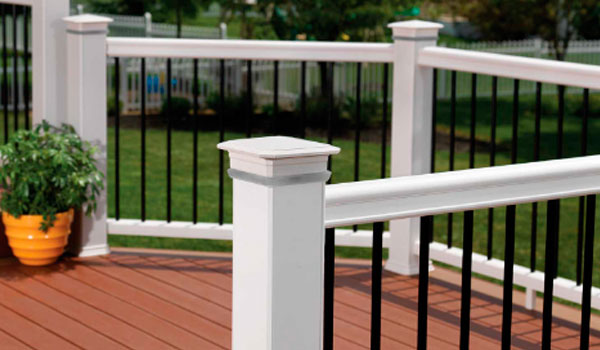 TimberTech and Azek have united to create perfect and high-quality railings. Now TimberTech offers a huge selection of railings in a variety of styles: traditional, modern and drink rail. They are available in two materials: composite and aluminium. You can choose among black, brown and white colours. All railings belong to different collections.
Classic composite Series combines five railing profiles: Premier Rail, Radiance Rail, Drink Rail, Trademark Rail and Contemporary Rail. You can customize your own design with them. Note that these railings are composite and include 50% recycled materials. The material resists mold, fading, scratches and other physical damage. TimberTech offers a 25-year Limited Warranty for this collection.
Reserve Rail is a rare collection that can be found only at local retailers. It has an unusual design due to the extra wide top. The railings are composite and do not require painting or sanding.
RadianceRail Express is a european-style collection with a beautifully sculpted top. The feature of this collection is that it can be installed at 45 degrees without overhangs.It available at white, black and kona colours.
Builder Rail is a classical modern collection. Composite top and clea vertical pattern make it look cohesive and bold. There is a 25-year warranty for this collection.
Impression Rail Express is very popular due to its simple installation. The collection is available in three profiles: Classic, Modern and Drink Rail. This collection has an aluminum panel, which resists corrosion.
Impression Rail is a collection in minimalistic design. It is an aluminium railing system in brown and black colours. The material does not need painting and lasts at least 25 years.
Century Aluminum Railing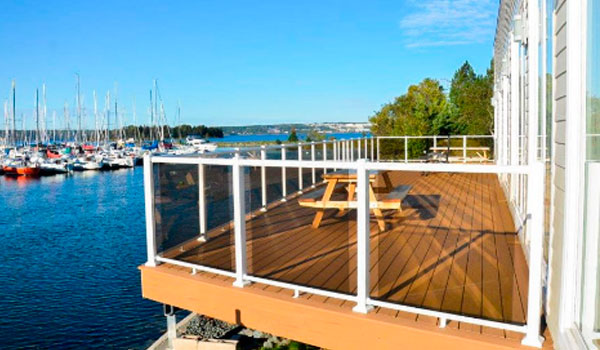 Century Railing is a Canadian manufacturer with 36 years of experience in building. It offers railings in 4 types:
Scenic Railings is a beautiful collection with an unusual feature: it does not have frames in top and bottom. It creates an unobstructed scenic view. The main material is 10 mm tempered glass that combines with aluminium pillars.
Picket Railings is a long-lasting and easy-installed collection in modern style. It is made from aluminum. The railings are available in 36" and 42" heights. The limited warranty lasts 20 years.
Frameless Glass Railings provide you a stunning view. They are perfect for balconies and rooftops. These railings are safe due to 10 mm tempered glass. It is easy to maintain and easy to install.
Deck railing pattern
There are three types of composite railing patterns: vertical, horizontal and mixed. Each of them looks aesthetically pleasing, but they all have a number of limitations in the use of materials.
Horizontal deck railings
This choice of pattern visually lengthens the deck. Wood or metal is ideal for her. Installation also does not require a significant investment of time. However, these railings are climbable and are not allowed by the Ontario Building Code.
Vertical deck railings
This is a classic railing arrangement. This design is easy to install. It can be crafted from wood or metal. However, they are more difficult to wash as they require great care (for wood only). Aluminum railings do not require any maintenance. Please keep in mind that in accordance with the Ontario Building Code the spacing between the vertical spindles should be less than 4".
Combined deck railings
They look original by creating unusual shapes. For example, you can combine horizontal and vertical lines to create a pattern like a checkerboard, diamond, or other shapes. Please verify with your local building department if your chosen railing design meets the local codes.
Deck railing cost
Glass railings are considered the most expensive. Composite railings with aluminum balustrades are also considered expensive. Composite railings, which contain up to 40% recycled material, as well as wood fences are considered a relatively budget choice.
Installation of handrails costs $900 on average, but the price can range from $700 and up.
Railing price depends on the collection, material and pattern complexity. For specific prices, contact our consultants by calling 416 623 7158.
| | |
| --- | --- |
| Material | Price (lin / ft) |
| Wood | $33 - $45 |
| Glass | $50 - $65 |
| Recycled plastic | $45 - $60 |
| Metal (aluminum) | $45 - $60 |
Buy deck railing in Canada at Decks Toronto
You can order railing and all related products in the Decks Toronto online store. We deliver goods throughout the Greater Toronto Area on the day of order, as long as we have the right quantity in stock.
On our site you can choose fences from the Fortress brand. You can order guides, handrails, support blocks, fasteners, balusters and other necessary components from us. You can also order lighting for the fence from us.
Deck Toronto specialists can also advise on the installation of fences. Call us on the phone with all clarifying questions: 416 623 7158.