Your browser is not supported. Please upgrade it to the latest version or download a freeware browser Chrome for correct working with website.
Composite decking accessories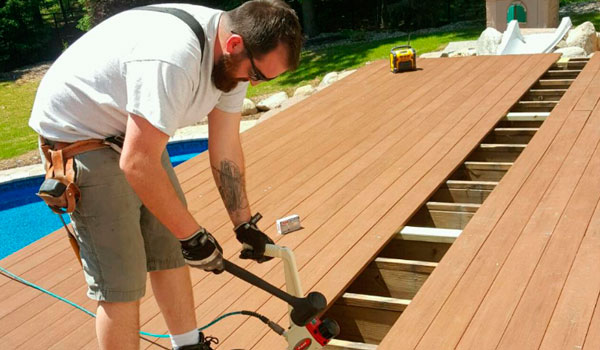 Why do you need accessories for composite decking?
Each brand of composite decking has their line of suggested deck accessories, as well as those that are covered by the manufacturer's warranty. For wood decking screws or nails are used, but for composite decking there are many other more aesthetically pleasing options. With the development of decking production technology, fastening systems have become more complex. Manufacturers create invisible accessories that can be used to secretly secure boards. Convenience also plays an important role: when ordering quality accessories, the deck can be installed on your own and in half the time that an ordinary wood deck requires.
Fastener types for composite decking
Screws. Screws are commonly used in traditional deck fastening. They are visible as they are attached to the board on the surface. Screws for composite decking are typically plugged with color matched plugs. Screws come either in painted carbon steel or in stainless steel. The very basic composite decking lines such as Trex Enhance does not allow for screw and plug installation and only color matched screws can be used.
Pneumatic fasteners. This fastening option is great for contractors who install different decks a year. Investing into a gun and spending more on your fasteners - helps save on labour.
Clips. The clips also help to secure the planks neatly without compromising the aesthetic appearance of the deck. They slide into the groove of the board and hold the board firmly in place. Each composite decking manufacturer will have their corresponding clip.
The types of fasteners differ for decks that are used for side cladding, fascia and stairs. When planning your decking design, it is also important to know in advance whether you will be installing deck railings or lighting. This can influence the choice of material and the selection of accessories for the fasteners. You also need to pay attention to the fastening material. For example, you will need stainless steel accessories to install your decking near saltwater.
Composite decking manufacturers
You may have some questions during decking installation: what type of fastening is needed here, how many nails will be needed, and so on. Fortunately, this problem is solved by a decking manufacturer who creates special accessories for their collections. For this reason, it is important to understand that you cannot randomly buy accessories - they may not fit your board profile.
Decking brands offer their own 2 anchorage systems. So, if you bought decks from Fiberon, then you also need to order accessories from this brand.
Trex composite fasteners
Trex has developed a proprietary Hideaway concealed fastening system. It allows you to discreetly connect the boards to each other. It includes universal fasteners, start clips, and groove cutters. Trex can also be installed with a Universal Fastening clip.
TimberTech & Azek accessories
The brand uses Cortex and ConceaLoc concealed fastener systems. They are suitable for both composite and PVC decking. These fasteners are guaranteed for 25 years. Please note that only decks from the TimberTech Azek collections do not require additional drilling during installation.
Fiberon composite fasteners
Fiberon decking is installed with specialty Camo clips with Fiberon branding. These clips are the fastest to install. Camo clips are put in place before they are fastened because they clip to the joist. Ten rows of decking can be positioned in place with fasteners temporarily attached to the joists and then all 10 rows would be attached at once.
Zuri accessories
Zuri offers square and grooved deck profiles with 3/32 "spacing or a 3/16" gap. A special hidden fastening system has been developed for them, which allows you to quickly and easily install the deck.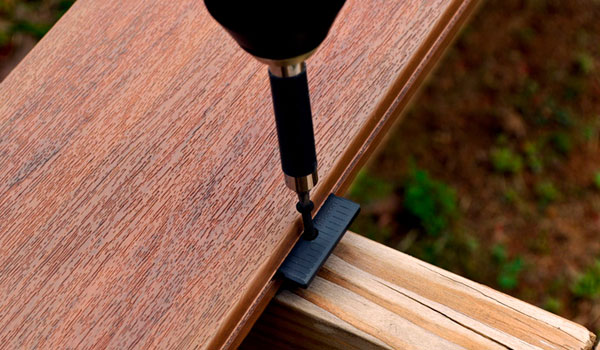 Order composite decking accessories at Decks Toronto
The online store offers accessories for Fiberon, Trex, Zuri and TimberTech&Azek composite decking. You can buy sets of screws, fasteners and clips from us. If the product is available, we deliver it the same day. If the product is not in stock, the delivery time is 2-4 days. Pickup is also possible from our store. We are located at 71 Buttermill Ave Vaughan, ON, L4K 3X2 or at 234 Hood Rd. in Markham.
To clarify prices, availability of goods in stock and other questions, call our consultants 437.837.0039.