Your browser is not supported. Please upgrade it to the latest version or download a freeware browser Chrome for correct working with website.
Decking Materials
Decking Materials
Are you planning to build a deck but can't choose a material? This article from Decks Toronto will help you sort through the content categories and find the one that best suits your goals and budget.
Pressure treated decking vs premium decking materials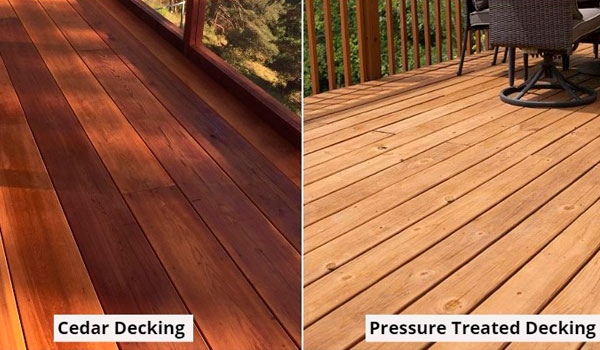 Twenty years ago, decking was made from pressure-treated wood. Homeowners were constantly faced with the fact that boards were deformed, disintegrated into chips, rotted due to moisture. Recycled wood had to be painted and sanded regularly. And still, usually, it served for 10 years and after that, a decking required a replacement.
Modern technologies for the deck production solve all these inconveniences. The market now offers three types of decking material: durable wood decking, capped composite decking and recycled plastic decking. Any material from the premium segment has a significant advantage over pressure-treated wood boards. Among the advantages of premium decking materials:
durability: even the cheapest materials are guaranteed for at least 25 years;
easy washing with warm water and soap;
no need for regular staining, sealing and sanding
Premium material decking classification
Wood decking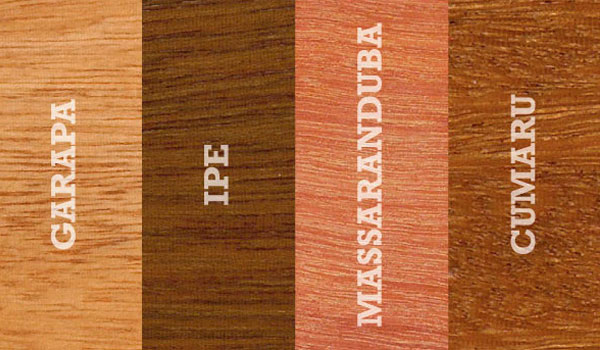 Wood decking has the most natural look. The average service life of wood decking is 50-100 years. This material is chosen for its strength and hardness: wood boards can withstand heavy traffic from numerous people and machines. Wooden deck is resistant to scratches and physical damage. Also, most wood boards are resistant to fire, which allows them to be installed in dry areas where fires often occur. Hardwoods are also termite-repellent and rot-resistant. But when choosing wooden flooring, you need to take into account the inconveniences, including:
need to repaint the deck once a year;
the difficulty of installing the deck due to the high strength of the boards;
the need for sealing every 3-4 years;
difficulties in replacing individual elements of the deck.
If you want to choose wood as your flooring material, you also need to carefully select the type of wood. The deck is usually made from hardwoods such as cedar, bamboo, garapa, cumaru, tigerwood, massaranduba, ipe, and others.
Ipe wood is one of the most popular wood deck materials in Canada. You can order boards from ipe wood in our catalog.
Wood species differ in strength and other properties. In the table below, we compare the most popular
Criteria

Ipe decking

Garapa decking

Cumaru decking

Tigerwood Decking

Cedar decking

Hardness

3680 lbs

1210 lbs

3540 lbs

2170 lbs

580 lbs

Strength

25,400 psi

12,900 psi

24,800 psi

19,285 psi

7,500 psi

Insect resistance

+

+

+

+

+

Decay

resistance

+

+

+

+

+

Fire resistance

Class A for fire resistance

Class A for fire resistance

Class A for fire resistance

Class A for fire resistance

Flammable wood

Lifespan

75+ years

30+ years

50+ years

30+ years

20+ years
When to install a wood deck?
You want your deck to look natural;
You expect your deck to have a lot of cars or people traffic;
You are ready to take the time to care for your deck.
You live in a very humid area or want to install the deck near water bodies;
You live in a dry area where fires often occur (any durable wood will do, except cedar);
You are prepared for the high cost of purchasing deck materials and installation.
Composite decking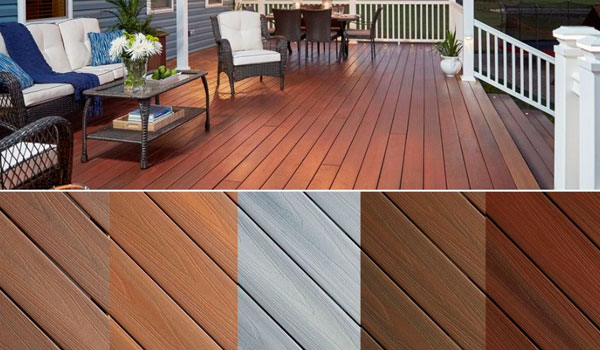 Wood-polymer composite decking strikes the perfect balance between price and quality. This material is cheaper than natural wood or recycled plastic. At the same time, it is quite durable, resistant to damage, easy to clean, and safe. Unlike wood, composite boards fade in the sun very slowly and do not require painting.
The main advantage of composite boards is the wide variety of colors. The colors of the boards range from light gray to brown, red, and dark shades. This variety will allow you to create any deck style: from classic European to vibrant Tropical.
Composite decking is 80% -95% recycled plastic and 5-20% sawdust. Due to their wood core, they are vulnerable to mold and rot in humid areas. You also need to know that composite decking, especially in dark shades, is noticeably heated in the sun.
PE boards are covered by a warranty. Major manufacturers promise that the deck will not deform or crack for at least 20 years. Also, manufacturers give a guarantee for 25-50 years that the deck will not fade in the sun and will not lose its color. However, it is worth considering that this is a piece of average information - specific warranty periods differ from manufacturer to manufacturer.
In the Decks Toronto store, you can buy composite boards from brands such as Trex, Fiberon, TimberTech. Check out the different collections of composite decking in our catalog.
PE decking differs in strength and other properties from different manufacturers. In the table below, we compare the most popular brands:
| | | | |
| --- | --- | --- | --- |
| Criteria | Fiberon decking | Trex decking | Timbertech decking |
| Variety collection | 5 collections | 5 collections | 4 collections |
| Price | $67-82 per board | $30-123 per board | $46 to $170 per board |
| Minimum guarantee of | 30 years | 25 years | 35+ years |
When should you choose composite decking?
You're on a budget;
You want to spend a minimum of time caring for the deck;
You want to immediately install a set of deck and railings;
You want to create a unique deck design;
The area in which you live is not very humid and not very hot;


Pvc decking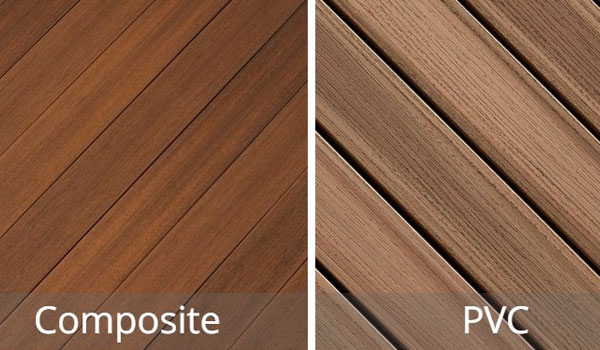 PVC boards are composed of polyvinyl chloride and do not contain any wood component. This gives the material many advantages, such as strength, decay resistance, class A fire resistance and insect protection. And the variety of colors and unique handcrafted patterns make the boards almost indistinguishable from natural wood. Due to these qualities, PVC is considered the best available deck material in the premium segment.
PVC boards are a material that compensates for the main disadvantages of wood or wood-polymer material. So, plastic decking is easy to install yourself - no special tools are required. The deck requires minimal maintenance - it needs to be washed every 6-12 months. Moreover, the boards do not require painting, grinding or sealing.
The disadvantages of the material include the high cost: one pvc board will cost more than wood-polymer.
PVC decking is the only material covered by a lifetime warranty against deformation and damage. Additionally, manufacturers provide a 50-year color fastness guarantee. Please note that specific warranty periods differ from manufacturer to manufacturer.
Fiberon Promenade, Fiberon Paramount, and Timbertech Azek are three lines from Fiberon and Timbertech that offer pvc boards. Wolf and Zuri are fully specialized in pvc decking. You can choose pvc boards in our catalogs and order them with home delivery.
When is it worth selecting a pvc decking?
You care about the environment;
High quality of the deck material is important to you;
It is important for you that the deck will serve you for a long time without deformation and damage;
You want to make the deck look as close to natural as possible, but do not use wood;
You want to create a unique deck design through the variety of colors and patterns of pvc boards;
You are ready to pay more for high quality material.
Still not able to select the right material for you? Read our guide to selecting the perfect decking material. In this article, we compared materials by 8 properties and offered you 8 selection criteria.
Resume
Pressure treated decking is an inexpensive but outdated technology that takes a lot of time to maintain. The premium segment offers a wide range of materials that will last you 25 years or more.
There are three main types of deck materials: wood, composite, and plastic.
Wood decking is quite expensive. But they are very strong, durable and scratch resistant. They heat up weakly in the sun and do not rot from water. Natural look is their unique advantage.
Composite decking is the most affordable material. These decks are easy to install on your own and are easy to maintain.
PVC decking is characterized by perfect protection against decay. They are environmentally friendly as they are made from recycled plastic. Polyvinyl chloride boards are highly resistant to damage and are guaranteed for 30-50 years.