Your browser is not supported. Please upgrade it to the latest version or download a freeware browser Chrome for correct working with website.
Wolf Decking
In Stock
Material is in stock in one of our warehouses in the GTA. Same day pick up in the GTA is available for this product. You can call our office at 416.623.7158 to confirm the exact location for this product.
Out of stock
This product is not available at our warehouse or at our distributor's warehouse.
Special Order (1-2 days)
This product is not available at our GTA warehouse for same day pick up, but it is available at our warehouse outside of the GTA or at our distributor's warehouse. Product can be shipped either direct to job site or to our warehouse in the GTA for client pick up.
Last Stock Update: May 23, 2023
Below you will find a list of profiles and lengths of Wolf Decking that we supply. To obtain a quote for your project please call our office at +14166237158 and speak to one of our specialists. Our showroom is open with no appointment necessary, we have all Wolf decking board colors on display.
DUE TO COVID-19 PRICES AND AVAILABILITY ARE CHANGING QUICKLY AND WITHOUT NOTICE. PLEASE CALL 416 623 7158 FOR THE MOST UP TO DATE INFORMATION.
About the Wolf
Wolf has a 175-year history of providing quality products to homeowners. The company produces decking, railings and deck lighting. Wolf decks are composed of polyvinyl chloride. PVC boards are considered the most durable and strong. A deck made of pvc is ideal for outdoor space in coastal areas, as it is resistant to rot.
You can find out more about the Wolf collections from this brochure and order your favorite deck on our website.
About the Wolf Deck Collection
All composite decks are made to the highest quality standards:
they have a premium coating ColorWatch100 that protects the boards from UV rays;
they repel water and do not rot;
they are resistant to cracking in the heat;
they can be installed in coastal areas;
each collection has a large selection of colors: from bright tropical shades to discreet light;
boards are lightweight and can be installed with hidden fasteners.
Wolf Serenity Decking Line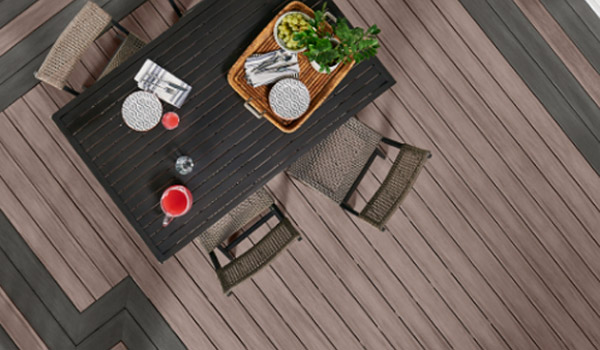 The boards from this collection are protected by the Wolf premium coating ColorWatch100. It repels water and protects the board from burning out in the sun. Thanks to this protection, the fdecking is guaranteed to keep its fresh and shiny appearance for 50 years.
The line is represented by two collections: Wolf Serenity Tropical Hardwoods and Wolf Serenity Seaside. In the Tropical Hardwoods collection, you can choose from nine bright and rich colors: Amberwood, Black Walnut, Golden Cypress, Driftwood Gray, Rosewood, Silver Teak, Teakwood, Weathered Ipe, Onyx. The Seaside collection uses two light colors: Harbor Gray and Sand Castle.
The collection comes in a standard size of 1" height and 5.5" width. There are three lengths to choose from: 12", 16" or 20".
Can't decide on a collection or a color? Order a sample Wolf board and test it at home!
How to care for Wolf PVC decking?
The Wolf cap protects boards from all Wolf collections against fading, moisture absorption and stubborn stains. This greatly simplifies the care of the deck. It does not need to be painted or washed with special solutions. It is enough to wash it regularly with soapy water. To preserve the surface of the boards, you need to avoid getting acetone on them.
Wolf decking price
Wolf offers quality decking at an average price in the market. One 12-inch board from the Wolf Tropical Hardwoods Collection or Wolf Seaside Collection will cost $100.15-$119.40
| | |
| --- | --- |
| Decking | Price per deck |
| Wolf Serenity Decking Line, length 12 feet | $100.15-$119.40 |
| Wolf Serenity Decking Line, length 16 feet | $133.50-$159.20 |
| Wolf Serenity Decking Line, length 20 feet | $166.95-$199.00 |
The cost of the boards may vary. Call our specialists at 416 623 7158 to find out the current prices for Wolf composite decking.
Warranty for Wolf composite decking
Wolf Serenity Decking and Wolf Serenity Porch have a Limited Lifetime Warranty. Additionally, the manufacturer offers a 50-year limited warranty against discoloration and fading.
Why order Wolf decking from Decks Toronto?
Decks Toronto is a trusted supplier of Wolf Composite Decking in the GTA. We carry out fast delivery on the day of order. Pickup is also possible from our warehouse. We are located at 71 Buttermill Ave Vaughan, ON, L4K 3X2.
If the boards in the required quantity are not in stock, we will deliver the goods to you within 2-4 days. You can check availability by calling 416 623 7158.
The Decks Toronto online store also offers railings, lighting and accessories for your decking. Our experts are ready to tell you in detail about the Wolf decking collection and help you find the perfect option for your outdoor space.