Your browser is not supported. Please upgrade it to the latest version or download a freeware browser Chrome for correct working with website.
What is outdoor deck lighting?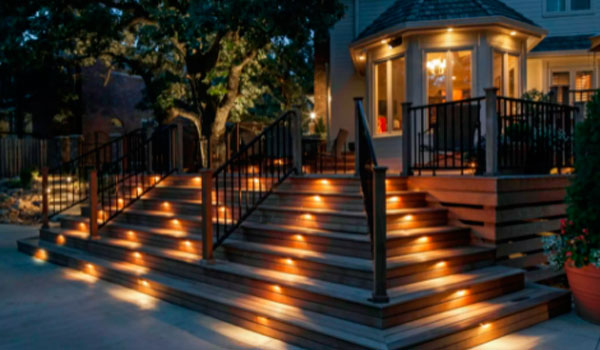 Deck lighting is illumination that is installed outside the house: on the veranda, deck, terrace, in the gazebo, on a fence or a privacy screen. Installing outdoor lighting is primarily practical: you can safely move around the house at dusk and at night. It is also very beautiful: lanterns near the decks or railings create an indescribable magical atmosphere and comfort.
Where to install deck lighting?
Outdoor deck lighting can be installed on handrails and stairs, near fountains, doors, walkways and pools. They are suitable for outdoor dining areas near the house and recreation areas.
Deck lighting types
Low-voltage lights. For lighting, special 12-volt LED lamps are used. To make the lighting work, it must be plugged into a power outlet. A transformer is definitely recommended to reduce the voltage. Before installing such lighting, you need to carefully consider the layout of the lamps and sockets. When building the deck, expect to create channels for the wires in advance.
Solar lights. They use the energy of the sun for lighting. There is no need to lay wires to install them. It is an environmentally friendly and economical way to illuminate your deck. However, it is convenient in places with many sunny days. Please note that solar lighting does not shine as brightly as LED bulbs and they break and stop to work a lot more frequently.
Deck lighting styles
You can place lamps wherever you want: on steps, on top of handrails, near doors. It depends on your tastes and the atmosphere you want to create. It is important to plan in advance where you want to install the lights so that you can install the deck with lighting in mind.
Accent light - installed on the bases of handrails and posts. These lamps allow you to create accents with light.
In-deck light - lights are built directly into the deck. To do this, special holes must be drilled in boards, so the installation of this lighting requires careful planning.
Post cap light - lanterns are installed under the tops of handrails and stairs. You can adjust the direction of the light: outward or downward.
Riser light / Stair light - lights are installed on the inner parts of the steps. With this kind of lighting, it becomes much safer to walk upstairs in the dark, because the lanterns clearly illuminate every step.
Under rail light - The lanterns are installed on the top of the railing, creating bright outdoor lighting. This style also increases the safety of night walks, as the boundaries of the open space are clearly delineated.
Deck lighting popular brands
Trex deck lighting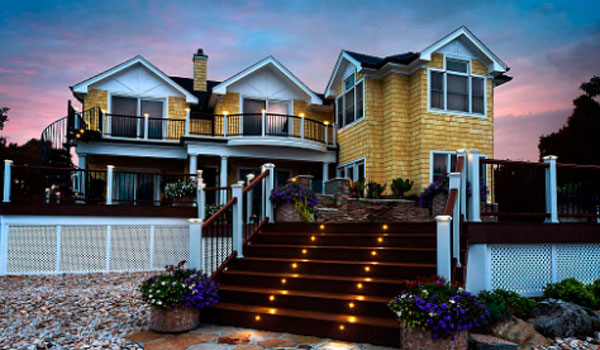 Trex uses lamps from the reputed manufacturer CREE. They are renowned for their durability and quality. LEDs are water resistant and work even in hot and dry climates. Trex offers a 7-year warranty on the lamps themselves and their body. Trex lamps consume 75% less energy compared to conventional LED lamps. LEDs Trex heat up to 3,000 Kelvin and produce warm white light. The brand has developed a user-friendly connectivity system, Trex LightHub. With its help, you can independently install outdoor lighting, even in a ready-made deck.
Wolf deck lighting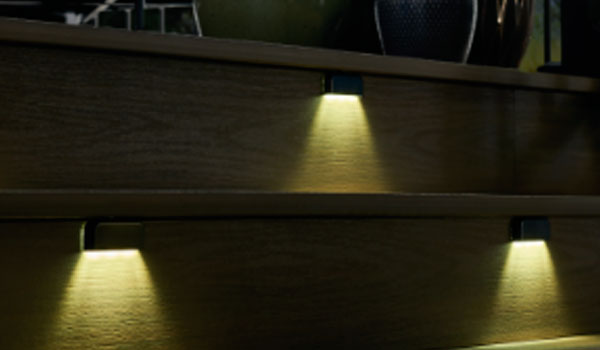 Wolf lamps and their frames are manufactured in the USA. The lamp frames are available in three colors: black, white and textured black. The average lamp life from Wolf is 50,000 hours. Wolf provides a 5-year warranty on its products. The manufacturer offers three ways to install outdoor lighting: post cap lights, stair lights and under rail lights.
In-Light deck lighting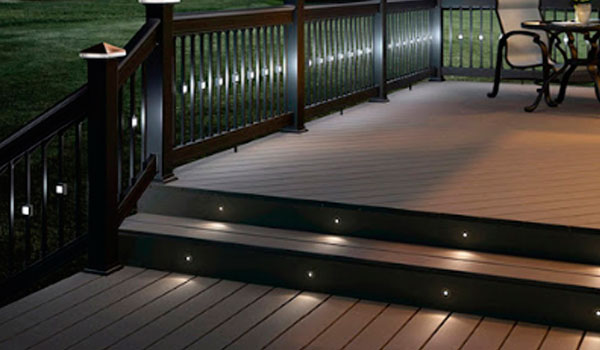 Lamps that use In-Light are rated to last 25,000 hours when properly installed. The brand has developed the Easy-Lock system, which allows cables to be routed along curbs. The system is designed for easy access to lamps, frames and wires if they need to be replaced. In-Light provides a 5-year warranty on its products.
TimberTech deck lighting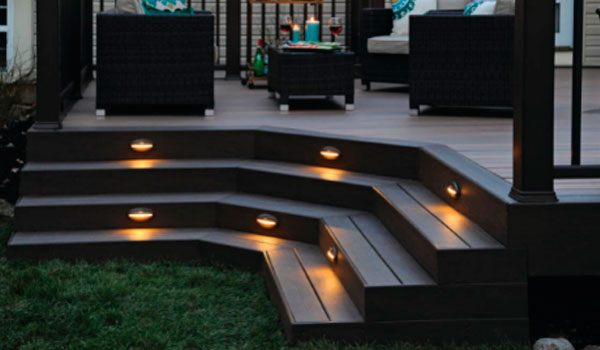 The TimberTech and Azek brands have teamed up to create the perfect product with all the benefits. The body of the lanterns is made of metal. It uses low-voltage lamps with a power of 12 volts for lighting. The TimberTech deck lighting system is easy to install without special tools. It integrates easily into the TimberTech Post Cap Light system. Products come with a 5-year warranty.
Deck lighting price
Costs vary by brand, lamp type and installation place. So, In-Light lamps cost from $40 to $300, the TimberTech lamps - from $78 to $88.
Please be aware that prices are constantly changing. Check the decking lights price with our consultants by calling 416.623.7158.
Tips: how to choose ideal light for deck
- Carefully adjust the brightness of the lighting. It should be enough to walk safely. Lighting that is too bright will dazzle and consume a lot of energy. Choose bright lighting for indoor use only.
- Pay attention to the fastening style. Many brands offer a hidden fastening system that enhances the look.
- Consider the weather conditions. There are lanterns specially designed for wet and dry areas. They are protected against moisture or dust. A weather correction will make the lights last longer. You can install solar-powered lights if you live in a sunny area.
- Pay attention to special sensors. You can install motion sensor lights for your deck. This way you can save on electricity, as the lights will only light up when you need them. Set dusk to dawn lights, which track the circadian rhythm and turn on independently in the evening and turn off when the sun rises.
- Plan in advance how many lamps you need and at what distance they will be located. You can cut out rectangles from paper proportional to the size of the illuminated area and attach them to the fixing points of the fixtures. This will help you better imagine how your veranda will be lit.
- Pay attention to the material from which the lamp is made. It will also affect the lighting. The most commonly used materials are aluminum, copper or brass.
Deck lighting reviews and ideas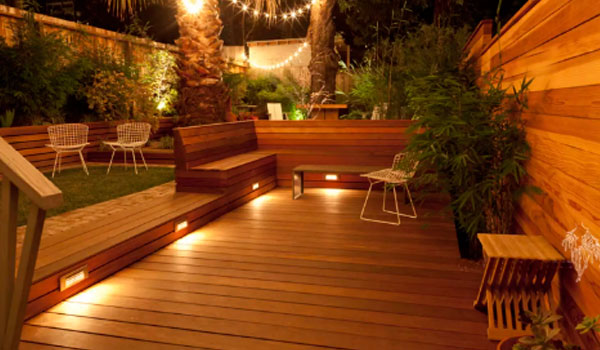 Before ordering your terrace lighting fixtures, we recommend that you think carefully about the style and overall look. Draw a blueprint for your deck, mark the placement of the lanterns, and make sure there is enough light. You can have a look at decking lighting ideas and take inspiration from Pinterest.
You can verify the quality of the lanterns and their durability by reading reviews on popular brands that produce deck lighting.
Buy deck lighting at Deck Toronto, Canada
Order your decking lighting from Decks Toronto Canada. We also offer post cap lights, post lights, rail lights and step lights. We have both low voltage LED and solar light in our store. You can also choose deck lighting accessories. At Decks Toronto we have a large selection of fixtures from the TimberTech and In-Light brands. Our consultants will help you choose a lamp that suits your tastes and budget. We are also ready to advise you on installation and answer your questions.
Our online store delivers on the day of order if the product is in stock in the required quantity. Otherwise, the delivery time is 2-4 days. Check the availability of the goods by phone: 416.623.7158.
You can also pick up the goods yourself from our warehouse. We are located at 71 Buttermill Ave Vaughan, ON, L4K 3X2.