Your browser is not supported. Please upgrade it to the latest version or download a freeware browser Chrome for correct working with website.
How to choose a decking material?
How to choose a decking material?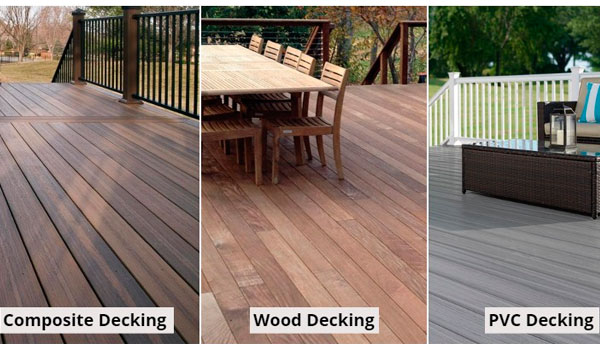 A deck material selection is an important task. The right solution can save you time and money and ensure that you will enjoy your deck for many years to come. If you are going to install decking for your patio or veranda, you must clearly understand what it will be used for. Do you want to spend cozy family evenings on it? Or, are you going to invite a lot of people to your place? Will the decking be installed next to the pool? Do you have time to maintain your decking? Do you have dogs who can potentially scratch your deck? Does your deck get a lot of exposure to the sun? If you choose the right material, you and your children will be able to enjoy the comfort on the veranda near the house.
Decks Toronto has prepared a short guide for you on how to choose a decking material. We have described for you three popular materials that are currently used to create decking, compared them and offered clear selection criteria. After reading our guide, you will definitely be able to make a decision that you will be satisfied with.
Wood decking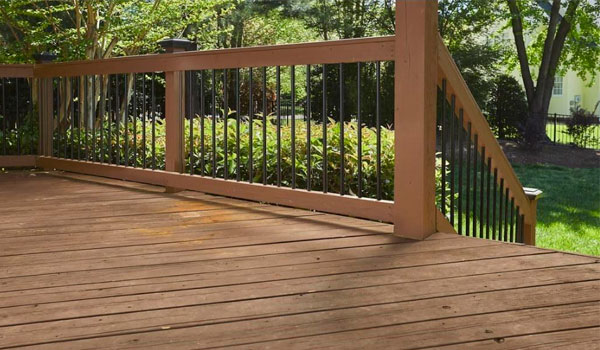 Wood is great for those who love natural materials. Decking can be ordered from different types of wood: spruce, cedar, Cumaru (Brazilian Teak), Ipe (Brazilian Walnut) or other hardwood species.
Pressure treated decking
Spruce is the cheapest decking material, but it has many disadvantages. It is greenish in color and contains knots. After drying, cracks appear in the wood, up to 1/8 "in width. Some boards also splinter. Spruce decks are treated with chemicals to give the spruce the durability and resistance to rot that the exterior environment demands. It lasts around 25 years
Cedar decking
Western Red Cedar is a softwood that is naturally suited for the outdoors. It does not need to be treated with chemicals in order to last around 25 years. It resists rot, decay and termite attack. Cedar is normally treated with a water sealant or a stain to preserve its color and to increase its durability. Upon drying, cedar cracks up to 1/8 "size cracks and splinters. The price of cedar is comparable or even higher than that of composite decking.
Ipe decking
Brazilian wood such as Ipe or Cumaru is considered the most optimal choice. These boards are durable, resistant to deformation, and protected from mold and decay. Their appearance is natural and aesthetic. Ipe is a good option for commercial decking due to its hardness. The main disadvantage of ipe boards is the high price. But it can pay off due to its durability, which is about 100 years.
Capped composite decking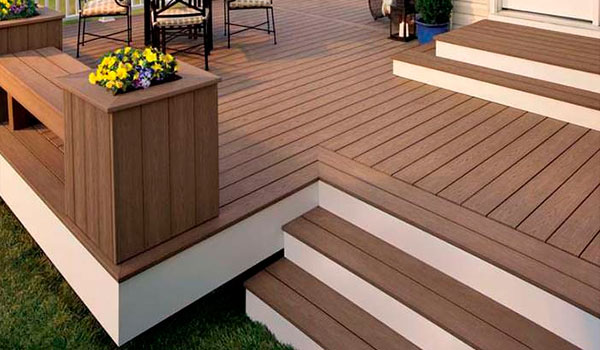 Composite decking is the golden mean between wood and plastic boards. They are made from recycled materials such as sawdust and plastic. The wood content in composite boards is usually low: from 5 to 20%. Composite products generally require little maintenance and do not need to be stained in order to maintain their color. Their lifespan is quite good: manufacturers usually give a 25-year warranty, 30 and even a 50-year warranty.
The main advantage of composite decking is the ratio between price and quality. This material is 2 or 3 times cheaper than hardwood and pvc. At the same time, it does not crack and is well protected from decay, compared to pressure treated decking.
The main manufacturers of quality composite decking are the brands Fiberon, Wolf, Trex, Zuri, TimberTech & Azek. Each of them offers unique solutions to make your deck look unique.
PVC decking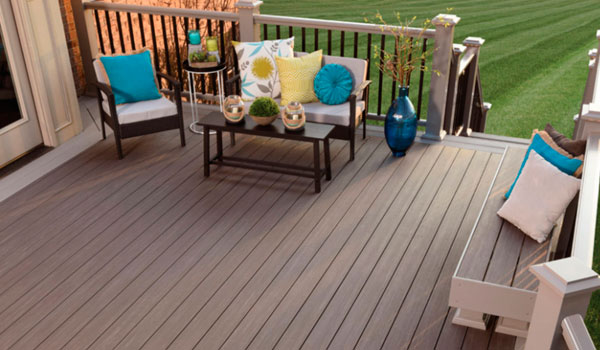 PVC decks are by far the best option decking manufacturers have to offer. These boards are 100% polyvinyl chloride and contain no wood at all. This gives them absolute protection from decay and the ability to install near water bodies.
PVC boards are strong enough to put heavy furniture on them. This material is suitable for you if you plan to often throw parties on the veranda. PVC decking collections have a natural look, indistinguishable from natural wood, as the texture pattern is drawn by hand. Caring for the pvc deck is also very simple: it needs to be washed with warm water and soap 1-2 times a year. The price of PVC decking is high and averages $72-170 per board. But their durability is long. Depending on the brand, you can get a 30-50 year warranty. The Fiberon Promenade and TimberTech Azek product line comes with a 50 or a lifetime warranty.
PVC decking is environmentally friendly. Manufacturers don't need to cut down trees to create them. The boards themselves are made from recycled materials. This is an important factor if you care about the environment and support recycling.
The most diverse collection of pvc decking is offered by Fiberon & Azek. Decks made of 100% polymer are offered in two product lines:
TimberTech Azek (collections TimberTech Azek Vintage, TimberTech Azek Landmark, TimberTech Azek Harvest);
Fiberon Promenade Collection.
You can learn more about decking materials in our dedicated review article.
Material comparison for your deck
In the table below we offer you 8 criteria by which you can compare different materials. For convenience, we rated each material within one criterion on a 5-point scale. 5 points means that the deck perfectly demonstrates the selected property, 3 points - the material is not bad for its price according to the selected property, 1 point - the material is rather bad according to the selected criterion. Materials are compared relative to each other.
Criteria

Ipe wood decking

Composite decking

PVC decking

Durability

4 points

Very durable

4 points

Strong enough, but care is required

5 points

Durable

Scratch and deformation resistance

5 points

Cannot be scratched

3 points

Fairly resistant to damage, but care is required

4 points

Very difficult to scratch

Mold protection

4 points

Very good

3 points

Good, but it is better not to install near water bodies

5 points

Excellent

Degree of heating

5 points

Slightly heats up

3 points

Dark colors heat up a lot

4 points

Slightly heats up

Simplicity of care

1 point

Difficult to care

5 points

Easy to care

5 points

Easy to care

Natural appearance

5 points

Natural appearance

3 points

Some collections have a natural appearance

4 points

Very similar to natural

Price

1 point

$$$$

5 points

$$

2 points

$$$

Service life

4 points

50-100 years

3 points

25-50 years

5 points

30 years or lifetime
Want to know more about the properties of different materials? Then order a sample of each of the materials from us. You can personally check their properties and choose the one that best suits your veranda!
Conclusion: main criteria for choosing decking material
We provide you a list of selection criteria and questions to help you understand the importance of each item.
Strength. What kind of loads should your deck be able to withstand? Will you only walk on it, or will you put heavy furniture on it? Will they ride a bike on the deck? The stronger the loads are expected, the more firmly the material must be chosen. The most durable is ipe decking.
Resistant to moisture. Will you be installing decking near a pool, lake, or other water? How often does it rain in your area? In humid climates, or near water bodies, choose a pvc material that does not contain wood.
Heat resistant. How dry and hot is the climate in your area? How often do fires happen? If you live in a hot climate, choose a deck that is fire rated. Also pay attention to thermal conductivity: pvc decking heat up least of all.
Slip. Will you run on the deck? Do you have any children? If safety is important to you, pay attention to the pattern on the surface of the boards. Smooth decks are more slippery but less expensive.
Natural appearance. How important is prestige and aesthetic appearance to you? Are you ready to pay extra for naturalness? Ipe wood decking looks natural. Those who like aristocratic patina may not paint the decking for a year - when fading, wooden boards acquire an aesthetic silver tint.
Ease of maintenance. Are you ready to paint the deck every year? Will you have time to sand the boards every two to three years? If you don't mind such painstaking care, you can choose ipe decking. But if you understand that you do not have time for such work - choose composite decking. It is enough to wash it with warm water once a year.
Price. Ipe wood decking and pvc decking are considered the most expensive. Composite boards are much cheaper. When choosing a decking material, carefully inspect the different collections: each brand offers boards in a different price range. You will definitely find one that suits you in terms of price and quality!
Durability. Some brands like TimberTech give a lifetime warranty for pvc decking. Ipe wood decking can last 50-100 years. Composite decking is usually covered by a 25-50 year warranty. Please be aware that there is a different warranty for burn-in and discoloration protection.
If you still have questions, ask our consultants. Call 437.837.0039. We can tell you more about decking materials. Our experts will listen to your needs and advise the material that will meet your requirements.