Your browser is not supported. Please upgrade it to the latest version or download a freeware browser Chrome for correct working with website.
Selecting Decking Materials
Selecting Decking Materials
Deciding on the best decking material for your project is one of the most critical decisions in the design phase. Information on this page will cover all major products that are used as surface decking in Toronto, Ontario. Please note, that in 99% of the cases the actual frame of the deck is built using the Pressure Treated wood.
Pressure Treated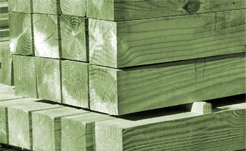 Pressure Treated Decking is the most common type of decking material that is used in Toronto, Ontario. Spruce is treated with chemicals (that no longer contain arsenic it its formula) to give the spruce the durability and resistance to rot that the exterior environment demands. This wood is the cheapest product on the market. It is greenish in color and contains knots. It lasts around 25 years. After drying, cracks appear in the wood, up to 1/8" in width. Some boards also splinter.
Cedar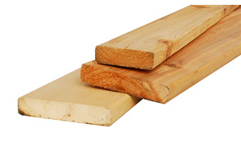 Western Red Cedar is the most common cedar that is used in Ontario for decking. It is a softwood that is naturally suited for the outdoors. It does not need to be treated with chemicals in order to last around 25 years. It resists rot, decay and termite attack. Cedar is normally treated with a water sealant or a stain to preserve its color and to increase its durability. Upon drying, cedar cracks (up to 1/8" size cracks) and splinters. The price of cedar is about double that of the pressure treated, but is considerably lower than that of a hardwood or maintenance free products.
Ipe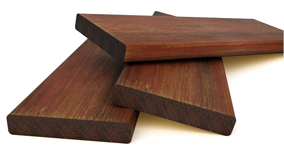 Ipe (pronounced Ee-pay) is a Brazilian hardwood. Ipe is the strongest and the hardest product on the market. It is clear of knots and has a nice hardwood texture. It is becoming a very popular product in Canada and it can be seen in numerous residential, public and commercial applications all over the Greater Toronto Area. It is primarily used as a decking material, but is also used as an exterior siding (Ipe Siding) and for flooring. Ipe is rated to last for up to 100 years. Its only disadvantage when compared to other natural wood products. Because of its growing popularity and our ability to offer it at a competitive price, Ipe decking is the only material that is currently sold on the DecksToronto.com web site. Please visit our Online Store for more details. Normally we can have Ipe shipped to your job site within 2 days.
Composite Decking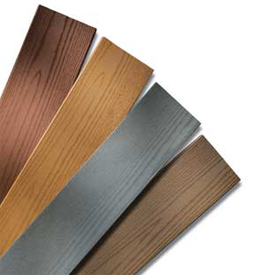 Composite decking materials consist of plastic and wood fibers. This material has been in use since mid nineties and has gain popularity over the years although in recent years its growth among the man made products has been diminishing due to the growing use of Plastic Decking Products. Composite products generally require little maintenance and do not need to be stained in order to maintain their color. Their cost is significantly higher than that of Pressure Treated or Cedar, but is generally lower than that of the Plastic Products and the Ipe. The main disadvantage of the composite products is the growth of mold and periodic need for maintenance with chemicals which in truth does not make this product maintenance free. The leading manufacturers of these products are Trex and Timbertech.
Plastic Decking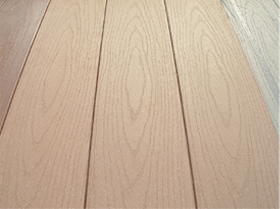 Plastic Decking materials consist entirely of PVC plastic and do not contain any wood fibers. Recently these materials have been gaining in popularity among the residents of Toronto. These materials are truly maintenance free and do not require any maintenance apart from regular cleaning. They are easy to work with. Their main disadvantage is price (roughly equal to that of Ipe) and a man-made plastic appearance. The leading manufacturers of these products are Azek, Trex (Escape line of products) and Timbertech.