Your browser is not supported. Please upgrade it to the latest version or download a freeware browser Chrome for correct working with website.
How to clean composite and wood decking?
How to clean composite and wood decking?
Proper care of your decking will help maintain its aesthetic appearance and extend its life. Composite decking is easy to clean, while wooden boards, in addition to washing, also require oiling and sealing. In this article, we will show you how to wash your deck so that it looks like new again.
How to clean composite decking?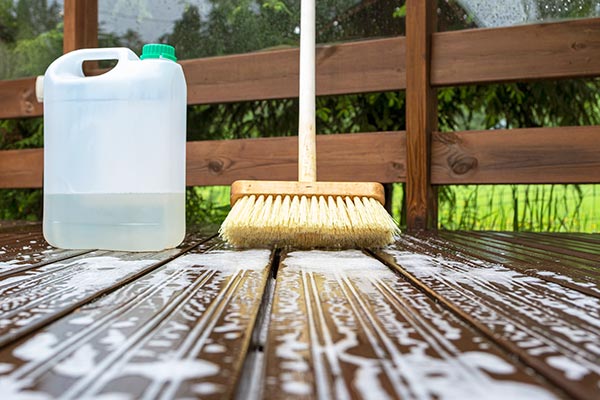 Simplicity in care and ease of washing are important advantages of composite and PVC decking. Modern deck collections make this task even easier with a high-quality protective coating. All decking maintenance comes down to cleaning leaves, snow and other debris from the surface.
To clean the decking , you will need a bucket of warm water, soap and a soft brush. You will complete this task in 2-3 hours. Your sequence of actions could be like this:
Remove all furniture and other items from the surface;
Sweep all debris from the surface of the deck;
Water the deck surface with a hose;
Go over it with a soft brush with warm, soapy water.
Spray off the decking again and make sure you rinse off the soap well and that there are no dirty water streaks on the deck.
In this way, you can clean the composite deck from leaves, mud, debris, oil, grease, mold, mildew and food stains.
A pressure washer with no greater than 3100 psi can be used to clean composite decks. In this mode, you will remove all stains and do not damage the boards.
Removing tough stains from decking
But what if the stain can't just be washed off? There are a few simple solutions for this.
Cement, concrete, and mortar can be removed with a special Concrete Dissolver. When using it, you must strictly follow the instructions.
Stains from hard water are washed off with white vinegar or a deck brightener product. Remember that the vinegar must be rinsed off.
Chalk lines can only be removed with Irwin Strait-Line Dust-Off Marking Chalk.
Helpful tips for caring for composite decking
Make sure you rinse the dirty water well from the surface of the deck, otherwise it will leave streaks.
If possible, avoid using hard water to avoid stains.
Spilled liquids, oils, food must be removed from the deck within 7 days.
Never use acetone or other solvents to clean composite decking.
To remove stubborn stains, use products from the manufacturer.
Rubber-backed floor mats can discolour the floor surface. Do not place rubber mats on boards.
Do not use a pressure washer for uncapped decking.
Pay special attention to removing debris in crevices.
Thoroughly clean dust from decking patterns.
To wash the deck, choose a dry cloudy day - so the boards will not heat up and you will be pleased to work with it.
How to clean wood decking?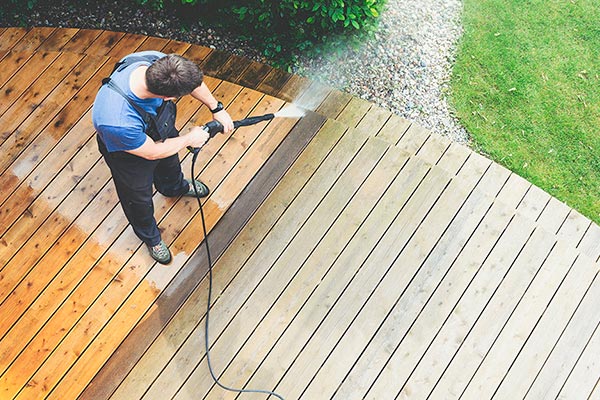 Wood decks are more demanding to maintain than composite boards. Cleaning wood decking is just as easy as cleaning composite. The difference is that after rinsing, it is recommended to apply an oil or sealant. Because of this, maintenance of wood decking will take about 2 days.
If you want to clean your wooden boards from dirt, restore their color and increase service life, we recommend that you follow this recommendations:
Remove furniture from the deck - nothing should interfere with you.
Sweep the deck to remove leaves and dirt. Remove debris from between gaps.
Wash off any remaining debris with water from a hose. Adjust the water pressure with care so as not to damage the boards;
Apply chalkboard cleaner or regular soap with a stiff brush;
Rinse the cleaner thoroughly from the surface;
Sand the deck to remove loose dirt particles;
Apply sealant in two thin coats. This is necessary to protect the deck from water penetration, prevent mold and block UV radiation, allowing for better color retention.
To seal the wood deck boards, use special products. DeckWise Ipe Seal End Grain is available from Decks Toronto. It is a colorless sealant suitable for ipe wood, tigerwood, cumaru and other hardwoods. One can can be used to cover 500 square feet of decking.