Your browser is not supported. Please upgrade it to the latest version or download a freeware browser Chrome for correct working with website.
What is ipe oil and when you need to apply it?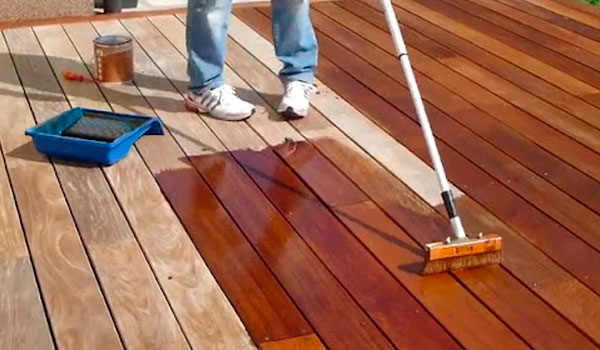 Ipe oil is a special oil-based finishing solution containing nutrients. Ipe oil is only used on very hard wood surfaces such as Ipe Brazilian wood, Tigerwood or Cumaru. It restores color to the wood and protects it from discoloration. For this reason, ipe oil is used for boards that are located in open spaces: verandas, terraces, railings, gazebos, swimming pools.
If your wood decking has sunburned and now looks silvery gray, you can still bring it back in color. The ipe oil penetrates deep into the board and lifts the fibers to the top, which returns the original rich color to the board.
If you live in a sunny area, it is recommended to oil the deck wood boards once a year. If there is little sunlight in your area, the boards will fade more slowly, so you can reapply the oil every 2-3 years. Remember, the ipe deck requires cleaning and polishing every 3-4 years.
Benefits of ipe oil
Usually it is applied for aesthetic reasons. It has little effect on the durability of the deck. Advantages of ipe oil:
seals the board and protects it from water;
creates a protective layer and protects the board from UV rays;
returns the board to its original color;
protects the board from cracking;
helps to maintain rich color despite exposure to sunlight.
After applying ipe oil, the decking looks as fresh as the first day it was first installed.
What happens to wood flooring if ipe oil is not used?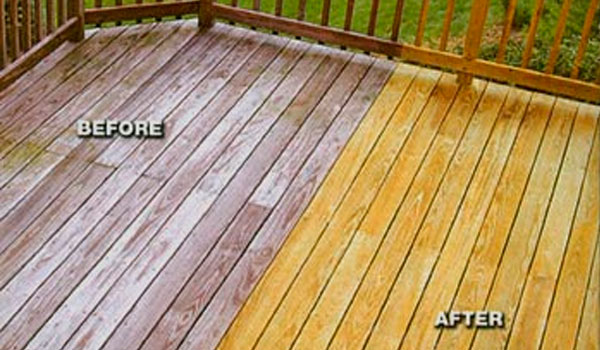 Without oil, your decking will lose its rich brown hue to a light gray. Its absence will not have a significant effect on the durability: the deck will remain strong and solid. It also maintains protection from water and insects.
Only those who like the noble silvery shade of the patina on the boards refuse to use ipe oil. There is no other reason not to cover natural wood flooring.
How to apply ipe oil for a wood deck?
Oil for decking is very easy to apply. Follow these steps or check out the detailed instructions on Wikihow:
Thoroughly wash the flooring; - for best results use high volume, high pressure gas pressure washer. These pressure washers (professional grade) are sold for more than $2000, so it is better to rent one. You can also sand the deck with an orbital sander and 80 grit sandpaper - but it is a lot more work.
Put on glasses, gloves and a respirator;
Mix the oil thoroughly in a container;
Apply oil to the roller;
Spread the oil evenly over the surface;
Let the oil dry - it takes 45 minutes;
Wipe down the flooring with a rag after applying the oil.
We also recommend that you follow these guidelines:
always apply oil to clean flooring. It must be free of dust, dirt, stains and other things;
apply oil in dry weather. If it was raining before, wait 2-4 days for the wood to dry out. Do not apply oil if rain is expected in the next 1-2 days;
the ideal temperature for applying the oil is 10 to 25 degrees Celsius. Do not apply oil if the deck temperature is above 30 degrees Celsius.
The oil does not have a pungent smell, so you will feel comfortable applying it. It is safe to inhale the smell of the oil, as the content of volatile compounds in its composition is very low. It is less than 100 g / l VOC, which meets the strict California South Coast AQM jurisdiction. Despite this, we still recommend you remember about safety and apply the oil with gloves, goggles and a respirator.
Follow the waste disposal instructions carefully. Be mindful of any debris left over from the application of the oil. It is highly flammable, so a rag, roller or other oiled item should not be thrown into the general waste bin. Dispose of materials in metal containers filled with water.
When refinishing, you do not need to remove the old layer of oil. You can simply apply a fresh coat on top of the previous one. This will protect your flooring from damage while removing the old flooring.
Ipe oil brands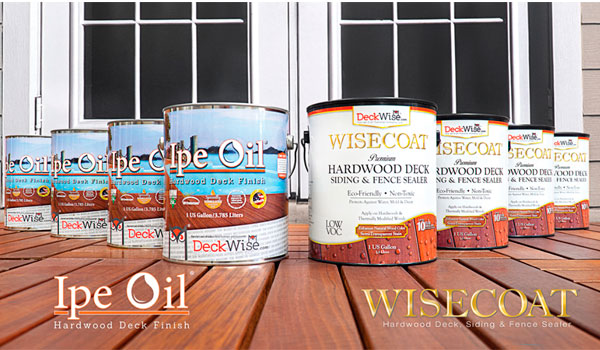 Deckwise Ipe Oil
Deckwise is the brand that manufactures Ipe Oil Hardwood Deck Finish. This translucent varnish is considered the safest, as it has Low 250 g / l VOC Formula. It protects the board from UV rays and burnout, moisture and inhibits the growth of fungi on the wood.
Cutek Ipe Oil
Cutek produces clear oil for wood deck coating. It is used not only for color protection, but also for strengthening. The oil reduces the likelihood of wood cracking and makes it easier to maintain. You can add one of 10 colors to Cutek oil to make your flooring look richer and brighter. The Cutek Oil does not stay on the surface of the Ipe as much as Ipe Oil does, in our option Ipe Oil protects against the UV rays better and Cutek protects the wood itself better. However, unlike cedar, Ipe does not need this structural interior protection, Oils are typically applied to preserve the color.
Tips for choosing ipe oil
If you live in a sunny area, buy an oil rich in iron oxide pigments. It will better protect the wood from UV radiation and slow down discoloration.
You can calculate in advance how much oil you need. You will roughly spend 1 gallon on 250-300 square feet if the wood is smooth. For rough wood, the cost is higher: one gallon of oil can cover 150-250 square feet of deck.
Read homeowner reviews to understand what is the best ipe oil for wood deck. You can read real people's reviews of Deckwise oil on Homedepot.
Ipe oil price
The cost of ipe oil from different manufacturers is approximately the same: it ranges from $134.99 per gallon for Deckwise and $109 per gallon for Cutek. You can save money by buying large cans. For example, ordering 5 gallons of Cutek oil can save you about $30.
Oil prices for ipe wood decking are constantly changing. Call our operators to clarify the current prices: 416.623.7158.
Buy ipe oil at Decks Toronto, Canada
Decks Toronto is a Canadian supplier of decking and accessories. Deckwise and Cutek brands of ipe deck oil can be ordered online from us. We deliver on the day of order if the product is in stock. If there is no product, expect delivery within 2-4 days. Pickup is possible from our warehouse. We are located at 71 Buttermill Ave Vaughan, ON, L4K 3X2.