Your browser is not supported. Please upgrade it to the latest version or download a freeware browser Chrome for correct working with website.
The perfect collection for building a cheap composite deck
The perfect collection for building a cheap composite deck
When choosing the best deck options for outdoor space, the concern of cost is always significant to consider. Of course, nobody wants to over-pay for the material, yet many still make this mistake simply due to a lack of expertise. If you are asking, "where to buy cheap composite decking?", or want to know the possibility of getting quality decking on a budget — decking experts at Decks Toronto are here to provide price and quality differences between different deck types. Additionally, we share tips on how to save up on decking and get free material in the process. This article will be helpful for both readers who want to get the most quality deck for a low price and those who need some lifehacks on how to save money on deck building.
Before reading, please note, that prices indicated in the article may differ slightly from the current ones. It depends on the season and external circumstances. Therefore, we advise you to contact our specialists in order to find out the exact price of the boards right now. You can call us by phone at 437.837.0039 or write to info@deckstoronto.com.
The cheapest composite decking collections
In this article, we want to compare the quality of the most inexpensive collections of each brand. The largest manufacturers of composite decking in Canada are the Trex, Fiberon and Timbertech brands. Among these three brands, we have chosen the cheapest composite deck collections:
Trex Enhance: its average price is $3.60 - 4.37 for lin.ft.
Fiberon Good Life: its average price is $3.80 - 4.58 for lin.ft
Timbertech Pro Terrain: its average price is 4.95 for lin.ft.
Timbertech Edge Prime+: its average price is $4.67 for lin.ft.
In this short, yet detailed review below, we show a comparison of prices between the four collections, and reveal our most popular brand, chosen upon reviews of clients and major retail companies.
To get current prices, please call us by phone at 437.837.0039 or write to info@deckstoronto.com.
Trex Enhance collection cost review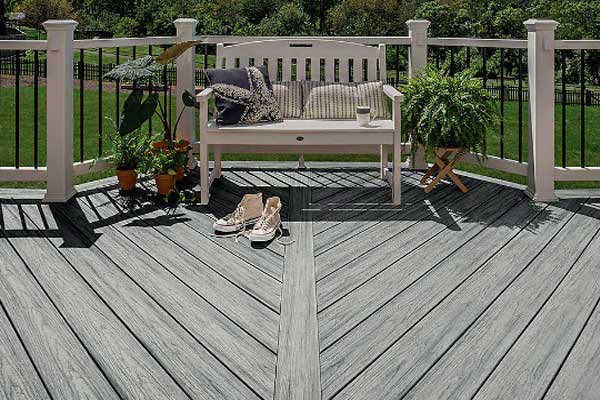 Let's first begin with Trex Enhance composite decking known for its unfailing high-quality coating. These sustainable and durable decks offer a variety of innovative and unique shades. The Trex Enhance Basics and Trex Enhance Naturals collections are always available at Decks Toronto. These deck lines are known for their low-range cost: you may pay from $30 to $45 per board from the Trex Enhance collection. This decking do not require the use of staples or nails during installation either, which saves up a lot, depending on area dimensions and the final deck plan.
Fiberon Good Life collection cost review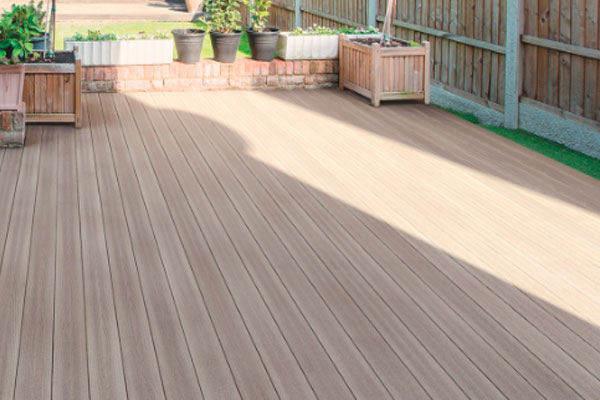 Fiberon Good Life brand ranges in the mid-range pricing of $45 - 76 per board, which is very reasonable for its high quality. Besides the 30-year - warranty on this collection, in comparison to other brands, Fiberon Good Life boards maintain unfailing resistance to scratches and strong durability. These decks also require low maintenance, as they are easier to clean during all seasons. You can be sure of the quality of this collection because the Fiberon Good Life Escapes decking has rated highest 4.8 out of 5 on Homedepot.
As the largest stocking dealer of this leading decking brand in Ontario, Decks Toronto is happy to assist you in picking between the different traditional layouts and textures. Here you can check the availability of Fiberon Good Life decks and enjoy the one-day delivery. These boards are rarely out of stock at our warehouse, but if so — we assure to assist you with delivery services at your convenient location within 2-4 business days.
You may be interested in reading the biggest review of Fiberon and Trex decking.
Timbertech: Prime+ & Pro Terrain collections cost review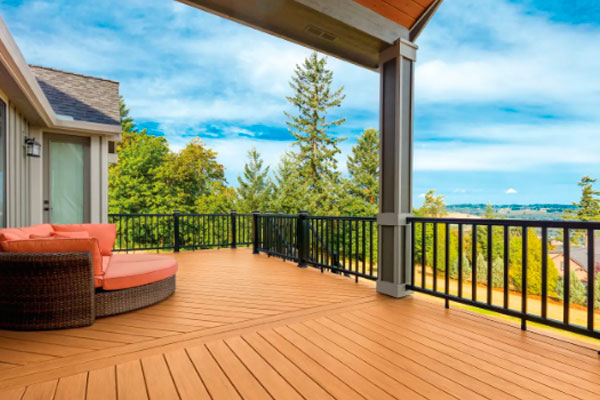 Our two last collections, the Timbertech: Prime+ and Timbertech Pro Terrain offer sustainable and durable deck quality, — all of which are resistant to heavy pressure. Using a 4-sided capping technology, Timbertech Prime+ offers low maintenance, with decks recognized for their non-slippery surface. Designed to provide an authentic traditional wood look to outdoor living spaces, the Timbertech Pro Terrain shades and layouts are deluxe, which reflects in their higher-end price of $55 - 99 per board.
A final comparison of the cheapest decking collections
To see and compare the estimates by quality criteria and the approximate cost for the four collections, check out this table below.
Note: it is always better to get in touch for exact pricing for your cheapest and highest quality collection on the market.
| | | |
| --- | --- | --- |
| Trex Enhance | Fiberon Good Life | Timbertech Terrain and Prime+ |
| $3.60 - 4.37 for lin.ft | $3.80 - 4.58 for lin.ft | $4.67- 4.95 for lin.ft |
| $30 - 75 per board | $45 - 76 per board | $55 - 99 per board |
| Doesn't get hot in the sun | Large selection of 6 colors | More natural look and unique pattern for each board |
| Good slip resistance | Good protection from scratches | Better durability |
| 25-year warranty | 30-year warranty term | 25-year warranty |
| Possible to install deck railings | 96% made of recycled plastic | Good protection from scratches |
| Easy to install and maintain | Mold resistant | Light boards easy to install |
Boards from the Trex Enhance Basics and Naturals collections are the most affordable option on the market. They are better than their competitors in that they are slightly heated in the sun. In rainy weather, they are also less slippery and this makes them the safest option among other brands for this price range. But at the same time, their look simple since the board is one colour and has a uniform pattern.
The inexpensive collection of Fiberon Good Life is the golden mean compared to Trex and Timbertek collections. The manufacturer offers the longest warranty against deformations in its price category which is 30 years. Since the boards are 96% recycled plastic, the decking can be installed near the pools and not be afraid of mold in the core of the material.
Boards from inexpensive Timbertek Terrain and Prime+ collections look very natural – this is their main advantage. This benefit is nicely complemented by the light weight of the boards, which makes them the easiest to install on your own. Thus, despite the fact that you will pay more for the material, you will have the opportunity to save on installation.
Conclusion
So as we can tell, the leading brand for its price and quality is Fiberon Good Life. Despite the cheaper prices of the Trex Enhance collection, Fiberon Good Life decks are more resistant to scratches and easier to maintain. Even though both Fiberon Good Life, Trex Enhance and TimberTech collections offer a long warranty on their product, the prices of TimberTech boards are above average, and overall cost more in comparison to the two other collections. Yet, among other competitors, Fiberon Good Life serves as the top option for clients, due to the reasonable cost and high quality. When knowing how to save up on the material, you can assure have a fascinating deck at a low cost.
Not a single brand: more tips on how to save money on deck building
Build a deck with your own hands. Check out our free guide on how to install a composite deck.
Don't forget, even if you are building a deck on your own in Ontario, you are required by law to present a proper deck plan. For your convenience, a team of experts at Decks Toronto has prepared free deck plans which include specific dimensions and key information you need to match your design and sizing of the entire deck.
Choose solar lights, or create DIY lights instead of electricity — this will save the hustle and money.
Get advice on the cheapest colour — the most affordable, yet popular options usually come in classic colours.
Keep a simple style — square and rectangular shape designs are very common & cheaper to make
Combine different brands, and mix & match equipment.
See and try out composite decking samples before making final decisions.
Ask our team of experts for current promotions and seasonal deals (free stuff!).
Begin the deck installation process during the offseason. You'd be surprised how much you can save by scheduling your installation during the fall & winter months in Canada.
Contact for Quote
At Decks Toronto you will find the most qualified and efficient brands among the cheapest collections. For professional deck installation, purchase advice, and ongoing promotions — ask our consultants or simply call 437.837.0039. As experts in the field and leaders in the decking industry, we are confident to satisfy your needs and advise the best decking options at an inexpensive cost.