Your browser is not supported. Please upgrade it to the latest version or download a freeware browser Chrome for correct working with website.
WOLF Installation Information
INSTALLATION GUIDE
Local building codes and principles should always be adhered to when installing Wolf Serenity Decking. All installations are unique and the sole responsibility of the installer to determine specific requirements for each application. Wolf claims no liability or responsibility for the improper installation of this product. Wolf recommends that all designs be reviewed by a licensed engineer, architect, and/or local building inspector before installation.
STORAGE
Store on a flat level surface.
Keep factory applied covering on products until installed to protect against dirt and debris.
Cover decking with a light colored tarp before installing to minimize expansion and contraction.
If possible, keep product stored in a shaded area.
BEFORE YOU START – IMPORTANT PREPARATION
Wolf Serenity Decking boards are not meant to be used for structural applications, supports or beams.
Wolf Serenity Decking boards should never be used for a support or a structural component of railing systems.
Deck should be designed with enough clearance underneath to allow for proper air circulation.
If you are using an existing support structure, check that all joists are level, structurally sound, with no nails or screws protruding.
Correct joist spacing is required for proper installation (See Illustrations).
- For best results, space 12" O.C. to minimize deflection.
- Do NOT exceed 16" center to center spacing when
installing planks perpendicular to joists.
- Do NOT exceed 12" center to center spacing for any and
all commercial applications.
- Do NOT exceed 12" center to center spacing when
installing planks diagonal to joists, such as a herringbone pattern.
- Whenever Wolf Serenity Deck boards are installed end-to-
end, a double joist is required to fasten deck boards to joists.
- Be sure all joists are level and crowned correctly. Wolf
Serenity Deck will conform to the contour of the substructure.
Use two screws for every joist.
Maximum cantilevering distance is 1".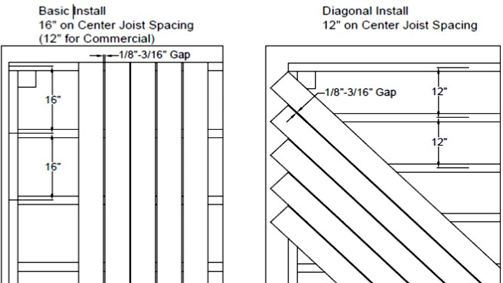 JOIST SPACING

90° Angle

30° Angle

45° Angle

100 PSF

16"

12"

12"
EXPANSION AND CONTRACTION
Wolf Serenity Decking, when installed with two screws per joist, will have minimal expansion and contraction due to temperature changes. Slight gaps may be noticed at the ends of boards or in spliced joints.
Approximate expansion and contraction for unattached deck boards based on 50° F temperature change:
12' = 3/16" / 16' = 1/4" / 20' = 5/16"
Provide proper ventilation to minimize expansion and contraction.
BOARD SPACING

AMBIENT TEMPERATURE

BUTT ENDS

SIDE TO SIDE

Below 32° F

3/16"

1/8" - 3/16"

Between 32° F and 75° F

1/8"

1/8" - 3/16"

Above 75°

No Space

1/8" - 3/16"

Only when installing in temperatures below 32° F leave a 3/16" gap at butt joints or miter cuts
Fasten boards as soon after cutting as possible.
For all installations, boards must be fastened with two screws no more than 1/2" from the ends.
If using HIDfast or CAMO® hidden fastening systems, ensure that boards are fastened with two screws, no more 1/2" from the ends. These two screws must be fastened through the face of the deck board and into the joists - i.e. Color-Matched Face Screws or Cortex.
Install boards together tightly at spliced joints and miters
Always leave a ¼" gap between decking and any structure (wall or post).
Fasten ends of deck boards, splices and abutments to building or securely to framing using two screws positioned within 1/2" of each board end or joint.
Stagger miters or splices so they do not all break on the same joist.
Wolf Serenity Deck fascia board must be fastened using 2-1/2" CAMO® Stainless Steel screws at 12" on center. Screws should be installed 1-1/2" from the top and bottom edges, along with a screw in the center. Use a bead of construction adhesive between 12" O.C.